Sale!
Battery Charger Tester Maintainer OPTIMATE 3
$64.89
3807-0254 Battery Charger Tester Maintainer OPTIMATE 3
If you have ever replaced a battery after letting it die over the winter just think more than half are actually still good batteries but most battery tender style chargers will not recover severely neglected batteries that have gotten as low as 2 Volts but the Optimate 3 will save alot of these batteries. This came to my attention as customers brought their old batteries for core credit. I started to plug them into my charger and test them. Most were still great batteries with more life but the customers chargers were automatic and they were getting a "bad battery" or "check" battery warning on the chargers just becasue the charger would not read a battery correctly if down near the 2 volt point. This charger also used alligator clips for lawn mower batteries and car batteries or uses the standard SAE plug as
Recovers severely neglected batteries from as low as 2 Volts
Fully-electronic, lighter weight, global input (100-240Vac 50-60Hz), fully-sealed, more advanced desulfation and maintenance program
Suitable for all types of 12V lead-acid batteries of rated capacity from 3 to 50 Ah
Diagnoses sulfated battery condition
Recovers severely neglected batteries from as low as 2 Volts
Automatic hourly tests – advance warning of problems
Maintenance – interactive float charge, max 800mA possible
No risk of overcharging; totally safe for vehicle electronics; sparks suppressed
Safe for long-term battery maintenance
Automatic shut-down if short-circuited or battery disconnected
Global input (100-240V 50-60Hz), high efficiency (CEC listed), fully sealed
| | |
| --- | --- |
| Amps | 0.8 A |
| Power Connection Type | Alligator Clamp, Eyelet Connector, SAE Plug |
| Product Name | Battery Charger |
| Riding Style | Street |
| Units | Each |
| Volts | 12 V |
The most TRUSTED battery charger in power sports!
OptiMate 3, the all-in-one tool for 12V battery care at home. Diagnoses, recovers, charges, tests and optimally maintains, automatically. The latest version of OptiMate 3 retains all easy-to-use characteristics of the over 2 million OptiMates produced since 1995, but is now lighter and more efficient than ever. The OptiMate 3 recovers sulphated batteries and then tests after charging. The maintenance program delivers only what the battery needs, never overcharges, never undercharges.
CHARGING AMPS : 0.8A (constant current)
USE : Indoor / Outdoor  (lowest temperature: -4°F / -20°C).
SAVE : Low Volt Start of 2V + 2 step desulphation recovery.
IDEAL FOR : STD, AGM & GEL 12V batteries from 3 – 50Ah.
INPUT : Global (100-240V 50-60Hz), high efficiency (CEC listed), fully sealed.
STYLE : Weatherproof case with wall mounts, with 6ft / 180cm AC supply lead and 6ft / 180cm charge lead ending in SAE connector.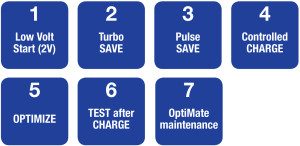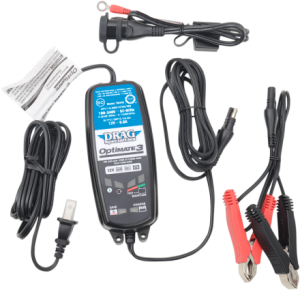 3807-0254 Battery Charger Tester Maintainer OPTIMATE 3
Related Products