Sale!
Axle Caps Front Spiked 2009 TO CURRENT BLACK
$69.95
Axle Caps Front Spiked 2009 TO CURRENT BLACK
DRESS UP YOU FRONT AXLE WITH THESE CUSTOM CAPS ALL MODELS ALL YEARS WITH FRONT AXLE CAPS DIFFERENT SIZES.
NOTE SOME 2009 TO 2017 SUCH AS THE VEGAS AND THE JACKPOT USE OUR OTHER KIT WHICH AS THE SAME SIZE LEFT AND RIGHT AXLE HOLES
THIS SET FITS THE NEWER AXLES THAT HAVE THE LEFT AND RIGHT AXLE NUT THAT ARE DIFFERENT SIZES
Sold as a pair.
In only minutes, you can make art out of an otherwise dull looking bolts.
These covers install easily with no tools or fasteners.
The axle caps just press in and you are ready to show off your custom victory accessories.
This is a real easy to install accessory that make a great looking Victory Motorcycle look better. We are always trying to find that one piece of chrome that wont break the bank or take up the whole weekend trying to install.
This is the right accessory for the order. This axle cap will clean up the front axle and will match custom chrome front forks.
I installed the front axle caps on my Victory Vegas and really love the custom look.
Simple to install and really improve the look of your front end.
THESE AXLE CAPS ARE VERY HIGH QUALITY AND OFFERED BY VICTORY ONLY PARTS AND ACCESSORIES. THESE ARE PUSH IN STYLE.
WILL FIT ALL VICTORY MOTORCYCLES SEE CHART BELOW
LOWER FORK BOLT COVERS
Our goal at is to design customized parts that allow the
customer to install them on their bikes without any specialized instructions or having
a dealer do it.
Parts are machined from billet aluminum and are a great way
for all Victory® customers to add to the true customization of their bikes. All parts are
chromed, standard chrome or a new nickel finish we call Black Pearl Chrome.
The lower forks just needed something – thus this piece adds BLING to your bike!
Simple to install and great to look at.
We know you will love this piece! Why? Because we can never keep enough in
stock, they sell so fast! If you put a set of these on any bike – all your bikes will have to have them, we guarantee it!
To install:
1. Insert Lower fork Bolt Cover into axle bolt.
2. Cover Lower Fork Bolt Cover with soft cloth.
3. Tap with rubber mallet until completely inserted firmly into place.
4. Repeat for other side of forks.
Installation is complete!
All parts are made in the U.S.A.
FIT CHART BELOW
New Designed Axle Caps Fit the Following ( 2 caps included mount if smaller on one side than other) (Note some Cross Bikes do not have a hole in the left axle cap and these will not fit those axles)
2011 Victory Motorcycle KINGPIN, Victory Motorcycle  HAMMER,Vegas
2012 Victory Motorcycle Kingpin, Victory Motorcycle  Hammer, Vegas
2013 Victory Motorcycle  Hammer, Vegas,
2014 Victory Motorcycle  Vegas, Victory Motorcycle  Hammer, Gunner
2015 Victory Motorcycle  Vegas, Victory Motorcycle  Hammer, Gunner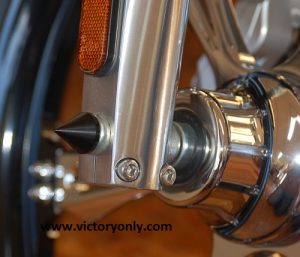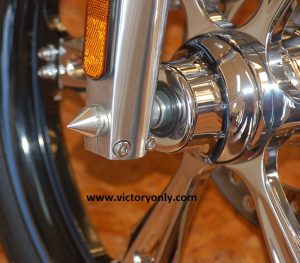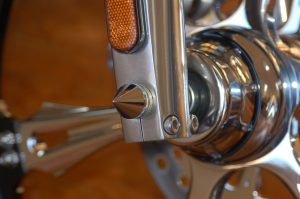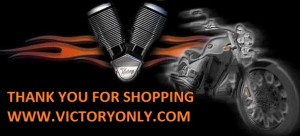 Victory Only Motorcycle carries the largest stock of performance mods, upgrades, custom equipment gear, apparel, OEM replacement and aftermarket parts and accessories for Victory Motorcycles with international worldwide shipping to Canada, UK, CZ, GB, Australia and anywhere a Vicory Motorcycle rider wants to do it yourself customizing of a show quality bike. If you are looking for Chrome or Black Contrast Cut billet aluminum accessories. Just shop Victory Only and Owens Cycle Works website for retail purchases or dealer wholesale orders for Victory's parts.
AAxle Caps Front Spiked 2009 TO CURRENT BLACK
Related Products