Sale!
Gerbing Heated Next Gen Glove
$249.99
Gerbing Heated Next Gen Glove
SKU: GLCHEX
Max Heat: 135F
Battery Rating: 7.4V 2000mAh, 15WHs
Build: 7 volt mountain glove with on-wrist controller and leather palms
Materials: Nylon shell, tricot lining
Gerbing Next Generation Gloves Include:
2 Heated Gloves (1 pair)
2 Rechargeable Lithium-Ion Batteries (BATLi720P2)
1 Dual Battery Charger
Gerbing Core Heat 7 Battery Powered Clothing: The Core Heat 7 thermovelocity system is powered by 7V lithium ion batteries that provide mobility and warmth for any outdoor activity. Coreheat7 garments are designed to keep you warm while hunting, working, skiing, or just walking the dog.
Gerbing Microwire Heating: The Microwire system is the most durable and efficient thermo-technology platform ever developed. Products incorporating Microwire technology utilizes patented micro-sized stainless steel fibers intertwined and encased in a proprietary waterproof coating. Gerbing Microwire technology will provide even heating for ultimate comfort.
Gerbing Core Heat 7 Volt Battery Products Include: Includes the battery and charger you need to power your Gerbing heated product. You may purchase additional batteries and extended-life batteries for prolonged use.
How to measure your hand.
Step 1. Measure around the widest part of your hand (In-between your index finger and thumb)
Step 3. Match your hand size (inches) up to the size chart
Step 4. Buy with confidence!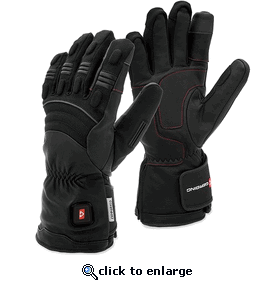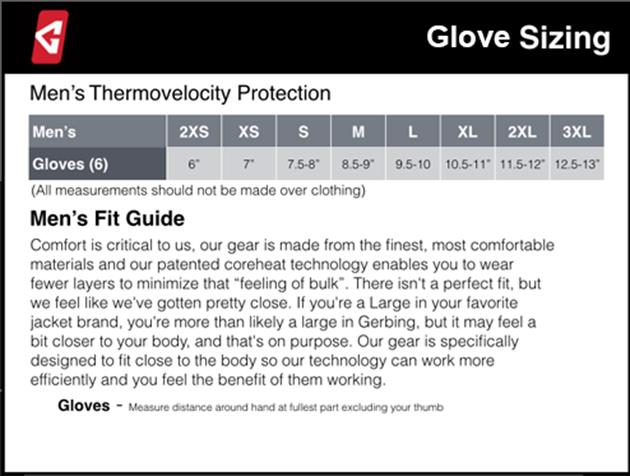 Gerbing Battery Instructions:
All garments come with a 7v Lithium Ion rechargeable battery and wall charger.
Additional 7v batteries can be purchased separately. Total battery weight: 4 ounces.
Each Battery has 4 settings and is indicated on the battery by a set of red lights:
100% (4 red lights)
75% (3 red lights)
50% (2 red lights)
25% (1 red lights)
The 7v battery holds anywhere from 2-­8 hours of heat, depending on the setting:
2 hours at 100%
3 hours at 75%
5 hours at 50%
8 hours at 25%
How Gerbing Batteries Work:
Step 1: Power on by pressing and HOLDING (2-4 seconds) power button
Step 2: To change temperature, press and hold power button until LED light reflects desired setting. *Power level setting can only be indicated when connected to garment.
Step 3: Check remaining battery life by disconnecting battery from product. Press and hold power button, LED indicator will show 1­4 LED lights to indicate remaining power (4 lights is full power).
Gerbing Battery Charging Instuctions:
We recommend charging overnight for first charge.
Charge 100% before use (a full charge takes about 3-4 hours).
A red light will appear on wall charger when charging. If light does not change or turn on, it may still be charging, so please test the battery in product after 3-4 hours.
Maintain at least 25% power when battery is not in use.
Victory Only Motorcycle is your number one source for Gerbing Heated Clothing Line and Gear. Battery Powered and warm. Stay warm while riding.Gerbing's Next Gen Glove is just that. This glove integrates our newest slimline coreheat7 power-cell technology with our most advanced, on-wrist LED controller. Specifically designed for winter adventures such as snowmobiling, skiing and snowboarding, this waterproof, warm and durable glove is the most technologically advanced coreheat7 glove we make today.
Max Heat: 135°F @ 7.7W
Power: 7V 2.2Ah li battery
Build: 7 volt mountain glove with on-wrist controller and leather palms
Materials: Nylon shell, tricot lining
Gerbing's next generation glove integrating our new slim line battery.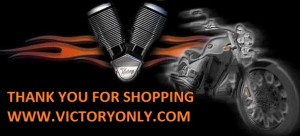 Victory Only Motorcycle carries the largest stock of performance mods, upgrades, custom equipment gear, apparel, OEM replacement and aftermarket parts and accessories for Victory Motorcycles with international worldwide shipping to Canada, UK, CZ, GB, Australia and anywhere a Vicory Motorcycle rider wants to do it yourself customizing of a show quality bike. If you are looking for Chrome or Black Contrast Cut billet aluminum accessories. Just shop Victory Only and Owens Cycle Works website for retail purchases or dealer wholesale orders for Victory's parts.
Related Products