Sale!
Spark Plug Wires Colored 8.2 Mm 2002 to 2018
$44.95 – $44.99
Spark Plug Wires Colored 8.2 Mm 2002 to 2018
Features
Now for longer life and better performance we upgraded from 8.0 mm
FITS: 2002 and up Vegas, Hammer, Kingpin, Jackpot,  V92C, Touring Cruiser, XC, XR, Vision
Exceeds the stock wire specs
No modifications needed to install
Sets your bike apart from the others!
Comes in a set of 2 wires
.Choose Colors Bright Yellow Spark Plug Wires,
These wires are made with high quality Taylor 8 mm coated, silicone spiral core ignition wire.
Compliment or contrast your paint scheme with some color!
They have smaller diameter spark plug boots to make it easier to grasp when removing the plug from down in the head. They are designed to be the perfect length to show them off without the need to tie them to your frame. They can be used with or without triangular chrome side covers for coil and ignition (cheese wedges)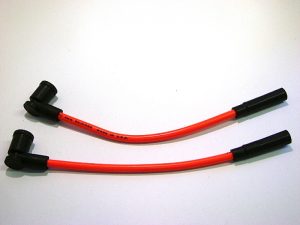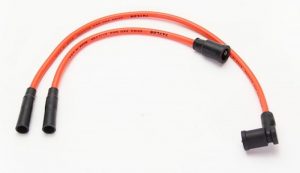 Frequently Asked Questions:
Will the wires make more power?
You probably won't notice it unless you have had engine work done or if you put your bike on a dyno. Only then will the benefits of the 8mm Taylor wires be noticed.
They are more for looks, put they do perform better than the stock wires.
Do I need to modify anything to get them to fit?
These are direct replacements and these actually fit better than stock as the plug boots are smaller and easier to remove. The old wires were zip tied to the frame where these ones do not need to be. You want these to hang down some to be seen. TrikWires are made to specific lengths to ensure a nice fit. Some people have made small clearance notches in the back side of their chrome triangular "cheese wedge" covers. This is not needed but some wanted to do this. You can run your bike without the cheese wedges for an even better look if so desired…
What bikes will they fit?
These wires will fit 2002 and newer Victory bikes with the newer style "Freedom" engine. All models are included except the older engine bikes. Will not fit the older 1999 to 2002 Victory bikes with the "Hammer" engine with no luck. It seems Victory used a few different coil connector types and the boot into the top of the head is very expensive. I will not be making any of these wires for the older bikes.
Fits:  Vision, Cross Country, Cross Roads, Hammer, Jackpot, Kingpin, Vegas, Touring Cruisers built after 2002
How do I take care of the wires?
The solid colored wires are made of high temp silicone and only need a wipe. I heat shrink my braided wires with a new crystal clear heat shrink that will not haze. I would recommend wiping the wires off if any fuel or oil gets on them to keep them looking their best, but they will resist most chemicals and heat.
Spark Plug Wires Colored 8.2 Mm 2002 to 2018
Additional information
| | |
| --- | --- |
| Weight | 0.75 lbs |
| Color | |
| Model Year | |
Related Products