Description
AUDIO SYSTEM INTERCOM 2003K SOLO
AMPLIFIED Yes
MADE IN THE U.S.A. Yes
MODEL J&M
SPECIFIC APPLICATION No
STYLE Bluetooth®, CB, Driver, Handlebar Mounted, Intercom
TYPE Communication System
•Advanced harness design for future J&M Bluetooth® capability
•Feature a 40-channel CB radio, NOAA weather band, rider/passenger intercom and stereo music amplification from any portable-type music device
•Mount it to your left handlebar with the proper bracket kit, connect the headset/power harness to your bike's electrical system (choose below between solo or rider/passenger kits), install a J&M license-plate mounted CB antenna (or any other properly tuned CB antenna, sold separately), plug in your favorite J&M dual-mode helmet headset/headsets and you are ready to go
•There are no other hidden black boxes to mount or clutter up your bike, as the complete system is on your handlebar (your portable music device is plugged into the system as a separate item)
•All knobs and controls have been designed for ease of use while riding, even with gloves on, and in addition the unit is water-resistant so you won't have to worry about getting caught out in the rain
•Superb audio performance, even at high speeds, and that is most impressive considering its compact size
•Mounting bracket and lower-section hook-up cord sold separately
•6-circuit auxiliary input plug lets you listen to music and charge your device and talk on a cell phone
•Made in the U.S.A.
NOTE: The JMCB-2003K-DU is a J&M 6-pin audio system that requires the pre-amplified microphone signal provided by our Dual Mode (ECD/ICD/BCD prefixed) helmet headsets along with the lower section hook-up cord PART # 4402-0047.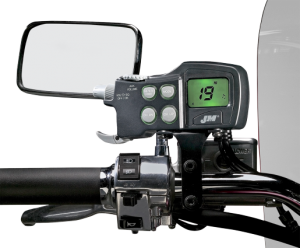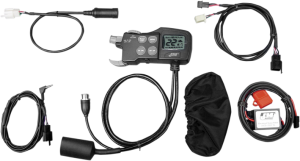 AUDIO SYSTEM INTERCOM 2003K SOLO