Description
Back up Power Supply and Emergency Jump Start Motorcycle
The Ballistic Back-Pack™
Back-up Power Supply and Emergency Jump Starter for You Victory Motorcycle.
Wow throw it in your saddlebag and charge your cell phone with raptors included even for the new I phone. A charge will last up to a year then jump your motorcycle off if you ever have a dead battery. Yes charge your phone or jump start your motorcycle 12Volt battery up to a year (recommended charge every 3 months).
The emergency battery Pack is the coolest thing Ive seen hit the motorcycle market in a long time. not much larger than a cell phone and includes clips to jump start your battery, charge your phone and even a flashlight or emergency strobe for those road side emergency times. I will keep this in my Victory Motorcycle from here forward for convenience as well as safety.
• The smallest, lightest handheld portable
jump starter for motorcycles, ATVs, UTVs,
and JetSkis.
• Portable Back-Up power supply for electronic
devices like mobile phones, tablets, cameras,
and other USB handheld appliances.
• Built in LED Flashlight with multiple
lighting modes.
• High Capacity Lithium Ion battery with
fast charging capability and extremely low
discharge rate. charge indicator lights on battery.
Product Specs
• Metric Measurement (L) 131 mm x (W) 75mm x (H) 25mm
• Standard Measurement (L) 5.1" x (W) 2.9" x (H) .9"
• Weight 300g (.66lbs)
• USB Output: 5 volts, 2 amps
• Jump Start: 12volts
• Starting Current: 200amps
• Burst Current: 400amps (5sec @ 70ºF degrees)
• Watt/Hours: 96 W/hrs
• Amp/Hours: 8 A/hrs
• Full Charging Time: 3 Hours
• Static Self Discharge Rate: < 10% per 1 Year
• Operating Environment: 0ºf (-18ºC) to 140ºF (60ºC)
SAFETY EMERGENCY PORTABLE JUMP STARTER * LED FLASHLIGHT * PORTABLE POWER SUPPLY FOR PHONE, TABLET, CAMERA, USB HANDHELD APPLIANCES * ROAD SIDE FLASHER * FAST CHARGING LITHIUM ION BATTERY  & EXTREMELY LOW DISCHARGE RATE.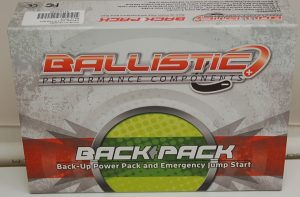 Back up Power Supply and Emergency Jump Start Motorcycle Roadside Safety. Charge Cell phone, Start Motorcycle, safety Flasher all with a unit the size of a phone you can keep in your Victory Motorcycle.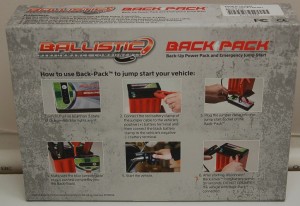 Picture of battery pack with Jumper Cable Clamps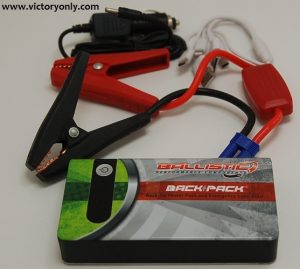 picture of battery jump starter and phone charger connector including a connector for the new I-Phone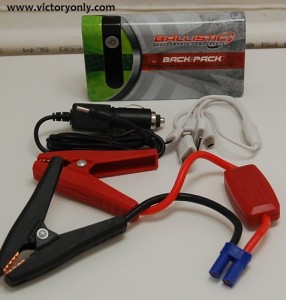 Victory Only is your first choice for Victory motorcycle accessories and parts with worldwide shipping including Canada,UK, Australia. Visit our showroom in Clinton Tennessee.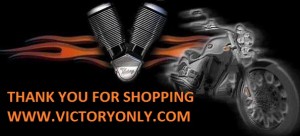 Victory Only Motorcycle carries the largest stock of performance mods, upgrades, custom equipment gear & apparel, OEM replacement and aftermarket parts & accessories for Victory Motorcycles with international worldwide shipping to Canada, Uk, CZ, GB, Australia and anywhere a Vicory Motorcycle rider wants to do it yourself customizing of a show quality bike.