Description
BAHN ALUMINUM CHROME WEDGE SIDE COVER KEY HOLE SIDE VICTORY
Closeout last Chance! I ONLY HAVE THE KEY HOLE SIDE REMAINING SO HERE IS WHERE IT GETS FUN! YOU SAVE A TON OF MONEY AND
GET CREATIVE PURCHASE 2 AND USE A CHROME PLUG FOR THE HOLE IN THE NON KEY HOLE SIDE OR A DECAL LIKE ON THE FACTORY CHEESE WEDGE. IVE EVEN USED A SPIKE ON BOTH SIDES AND RELOCATED THE KEY!
BAHN WAS KURYAKYNS PREMIUM BRAND LINE. OFFERING ALL ALUMINUM MILLED PARTS FOR CUSTOM SHOPS.
VICTORY MOTORCYCLE REPLACEMENT CHEESE WEDGE SIDE COVER FROM VICTORY ONLY AND KURYAKYN.
Forged and machined in a non-conventional design, Küryakyn's Bahn line of accessories give your bike that perfect amount of style it needs to stand apart on the streets!
Chrome Bahn Left Side Ignition Cover (ea)
Fits:  2004- 2018 Victory Models (except Octane, Judge & Boardwalk)
CAN BE MOUNTED EITHER POINTED DOWN OR TOWARD THE SIDE!!
The Ignition Cover for Victory
can be mounted either vertically or horizontally. Decide which
way you want the cover to be mounted before beginning the installation
Flip the bracket with the screws over and attach the
mounting bracket to the cover with the remaining three M6 screws. The
bracket orientation and screw locations are the same in relation to the
bike whether the cover is vertical or horizontal.
1 BAHN RIGHT Ignition Cover for Victory Motorcycle — Chrome
1 Bracket
1 Hardware kit containing:
6 M6 X 1.0 X 12 MM serrated flange screws
3 M6 X 1.0 serrated flange nuts
3 external tooth lock washers
1 Installation instructions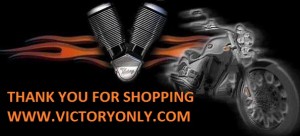 Victory Only Motorcycle carries the largest stock of performance mods, upgrades, custom equipment gear & apparel, OEM replacement and aftermarket parts & accessories for Victory Motorcycles with international worldwide shipping to Canada, Uk, CZ, GB, Australia and anywhere a Vicory Motorcycle rider wants to do it yourself customizing of a show quality bike.
CHROME WEDGE SIDE COVER