Description
Gerbing Gyde S7 Leather Battery Heated Mittens
Our S7 Premium Leather Heated Mittens are possibly the most luxurious heated gloves we have ever made. Full-hand heating provided by our patented Microwire heating system and an included pair of insulating liners provides a premium warming experience.
Control the temperature via the three-level silicone switch built into the mitten for easy temperature control and comfort.
Gerbing Gyde Leather Heated Mittens Include:
2pc – 7V 3400 mAH Rechargeable Lithium-ion Battery Pack (25.16Wh)
1pc – Dual Battery Wall Charger
Free Insulating Glove Liners
Detailed Instructions
Gerbing Lifetime Warranty
Gerbing S7 Leather Heated Mitten Features:
135 F Maximum Heating Temperature
Heating on both palm and back of your hand
Waterproof Construction
Cyberian Cordloc system for a custom fit
Customizable Heat Settings
Chamois Thumb
AQUATEX™ breathable water-resistant membrane
Battery has 4 heat-settings as indicated by lights and Heat Times:
100% (4 red/blue lights) – 2 Hours
75% (3 red/blue lights) – 3 Hours
50% (2 red/blue lights) – 5 Hours
25% (1 red/blue lights) – 8 Hours
Charging Battery:
We recommend charging overnight for first charge.
Charge 100% before use (a full charge takes about 3 hours).
A red light will appear on wall charger when charging.
The red light will change to green when charged.
Maintain at least 25% power when battery is not in use. This practice will prolong the life of any 7V battery.
Each heated glove features an on-board temperature control button that regulates the temperature with three optimum heat levels. The 7.4V lithium battery is secured in a pocket on the top side of the gauntlet for increased freedom of motion during almost any outdoor activity.
Instructions for Silicone Switches:
Step 1: Plug in fully charged battery.
Step 2: Switch will cycle through settings, this indicates switch has power and can now be used.
Step 3: To power on, push and hold down button for 2-3 seconds until the switch illuminates.
Step 4: To change power setting, tap button to cycle through levels.
Low = Green
Medium = Yellow
High = Red
•Step 5: To power off, push and hold down button until light goes out.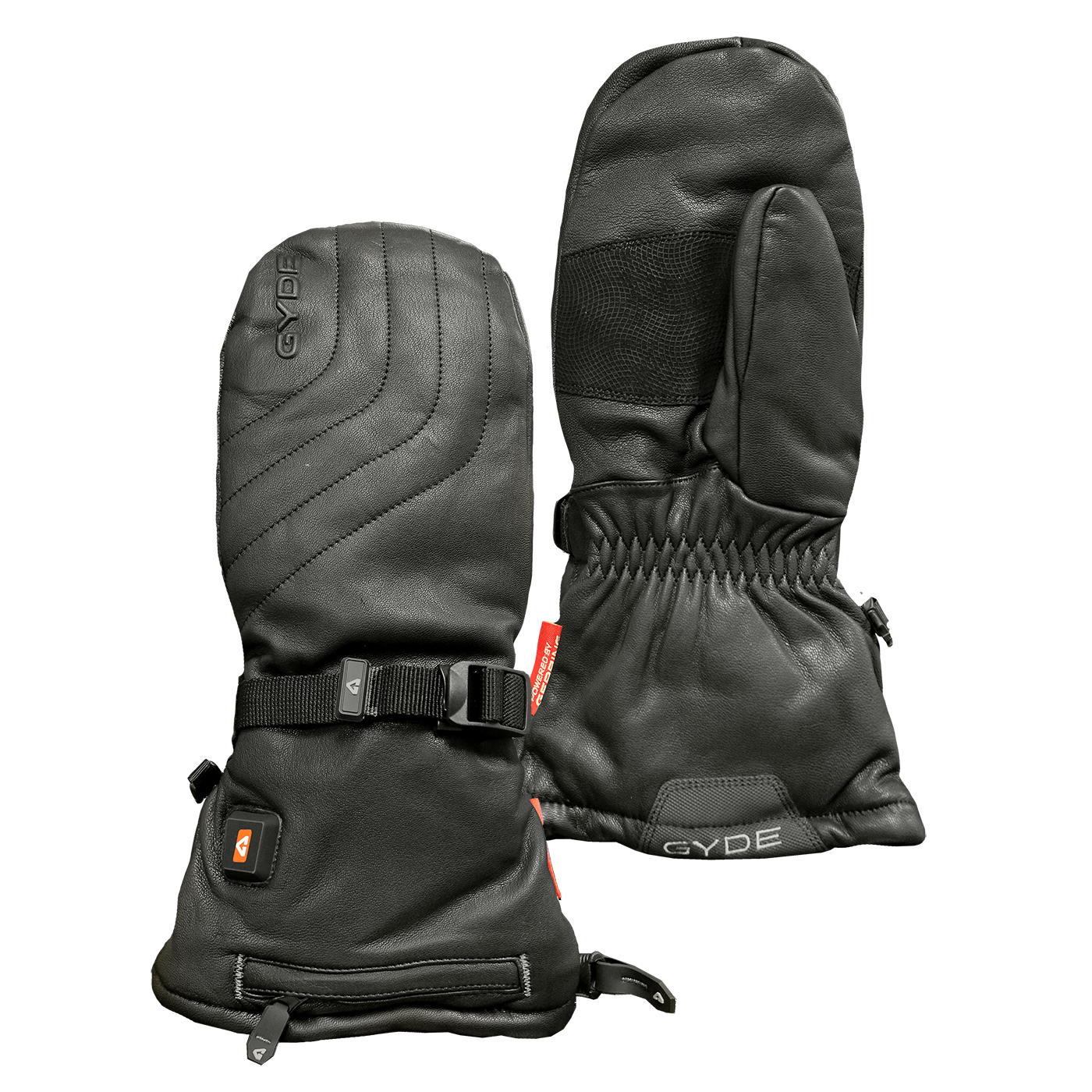 Gerbing Gyde S7 Leather Battery Heated Mittens