Description
Octane Performance Exhaust Pipes Chrome, Black Victory Motorcycle
2016 Victory Motorcycle Octane
*****Built to order. Ships in approximately 3 months
choose with AMS tuner for fuel injection or without if your going to use a Power commander.
If your looking for more power for your Octane, the Octane Mayhem is what you need.
Our Mayhem & AMS combo will add approx. 17 horsepower over stock, with more torque and instant throttle response across the entire power band.
Please select finish options from the menu.

NOW AVAILABLE! Anger Management Fuel Control Module incorporates many of the same features found in our competitors modules, while utilizing a richer base setting that works great on our high-flow exhaust systems, stock engines thru big inch highly modified engines. It also offers more flexibility to your tuning adjustments, fuel options, and allows for a wider range of exhaust & motor configurations. The Anger Management Module now works with all your performance fuel options, including NOS (Nitrous Oxide) should you desire the extreme. This is a plug in and play unit, no splicing, Fully tunable, user friendly and programmed with richer baseline to run with our high performance exhaust. Easy to install, and easy to tune without the expense of dyno tuning!
6 tuning modes that covers all aspects of engine fuel requirements, including the ability to tune out back firing thru the exhaust (div) We offer a package deal for our retail customers only of $120.00 discount when purchasing this product along with an exhaust system.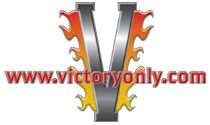 Victory Only Motorcycle carries the largest stock of performance mods, upgrades, custom equipment gear & apparel, OEM replacement and aftermarket parts & accessories for Victory Motorcycles with international worldwide shipping to Canada, Uk, CZ, GB, Australia and anywhere a Vicory Motorcycle rider wants to do it yourself customizing of a show quality bike.
Octane Performance Exhaust Pipes Chrome, Black Victory Motorcycle