Description
AXLE CAP REAR SPIKE CHROME CUSTOM BOLT CAP VICTORY MOTORCYCLE
AXLE CAP REAR SPIKE CHROME CUSTOM BOLT CAP VICTORY MOTORCYCLE is a Victory Only Custom Accessory Rear Spike Axle nut Cover in Show Quality Chrome Finish
High Quality Bright Chrome finish
Installs in seconds using 2 set screws. Only axle cover on the market using 2 set screws.
Includes Dual Set Screws to maintain the tightest fit.
Sold each (NOTE WILL ALSO FIT THE FRONT SWING ARM LEFT SIDE BOLT BUT MUST BE SILICONE ON BECAUSE SET SCREW IS COVERED)
WILL WORK GREAT WITH A SIDE MOUNTED TAG KIT OR WITH THE STOCK OEM BOLT.
MADE IN AMERICA WITH PRIDE
Perfect match for our Spike Collection of Accessories. Also offered by Victory only (not included) Spike Grips, Spike Pegs, Spike Fork Covers, Spike Fender Rail bolt caps, spike Front axle cap, Spike front axle swing arm cover.
This Victory Only Custom Motorcycle Accessory for Victory Motorcycles will give your rear axle nut a clean and custom look.
We all know over time the rear wheel nut gets scratched up as you replace the rear tire.
.The Victory Only Rear Spike will allow you to cover up that unsightly axle nut with a high quality chrome cap or cover that uses dual set screws to hold it in place. We use 2 set screws because this area takes a lot of road vibration and 2 set screws will hold it in place tightly for years to come.
Simply loosen the set screws and remove the Chrome Spike Cover and replace once you have your tire changed and your ready to ride in style again.
This Custom Accessory with attitude covers your swing arm nut on most all Victory Motorcycles.
The cap covers the ugly 27mm nuts found on most Victory motorcycles.
Our cap is a great choice for any Victory that wants style and attitude.
It is made from billet aluminum and chromed to give you that show quality finish.
Cap is held on with 2 small set screws for max hold.
SEE PICTURES ABOVE FOR BEFORE AXLE SPIKE COVER IS INSTALLED.
style adjuster.
•Victory Motorcycle Hammer & 8-Ball
•Victory Motorcycle Judge
•Victory Motorcycle Boardwalk
•Victory Motorcycle Vegas
•Victory Motorcycle Kingpin
•Victory Motorcycle Gunner
•Victory Motorcycle Jackpot
•Victory Motorcycle Highball
•Cross Country, Cross Roads, Hardball
Note if using on the tear drop style axle adjuster it must be silicone on because cant reach the set screws. We recommend automotive silicone at any auto parts store.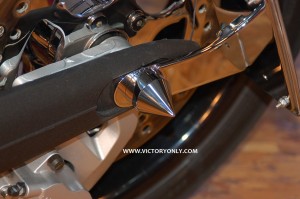 Victory Only Motorcycle carries the largest stock of performance mods, upgrades, custom equipment gear & apparel, OEM replacement and aftermarket parts & accessories for Victory Motorcycles with international worldwide shipping to Canada, Uk, CZ, GB, Australia and anywhere a Vicory Motorcycle rider wants to do it yourself customizing of a show quality bike.
AXLE CAP REAR SPIKE CHROME CUSTOM BOLT CAP VICTORY MOTORCYCLE