Description
Ripper Performance exhaust 2008 – 2017 Hammer Jackpot
*****Built to order. Ships in approximately 3 months.
Victory "Rippers" for 2008 thru 2017 Hammer and Jackpot models. These have the 02 sensor bungs.
Victory "Rippers" include heat shields, and our mini tuned cores that are removable. Comes in your choice of Triple Chrome Plate, black ceramic, or add Designer heatshields.
Hacker Custom exhaust "Rippers" have been dyno proven to provide more than 10 horsepower over stock and they by far outperform Victory's Curve pipes (Victory Brand Swept pipes & X pipes LOOSE power, 2 HP less than stock pipes.. ).
The Rippers are an easy bolt on upgrade, they bolt right on the stock bracket, NO FRAME CUTTING, making our Rippers and Jokers the easiest exhaust to install available.
Rippers require the use of our AMS fuel module or a custom Victory remap. AMS does not work on 2017 models
Picture shows black shields on chrome pipes, this option is available on all of our Rippers and Zoomies.
Quiet option inserts are now available for an added $20.00 per set!, these meet sound requirements for most states and Countries including Canada and Australia.!
***Please allow 2-3 months for Black and 3-4 months for Chrome on average for delivery.
Fits: Victory Hammer Jackpot 2008 thru 2017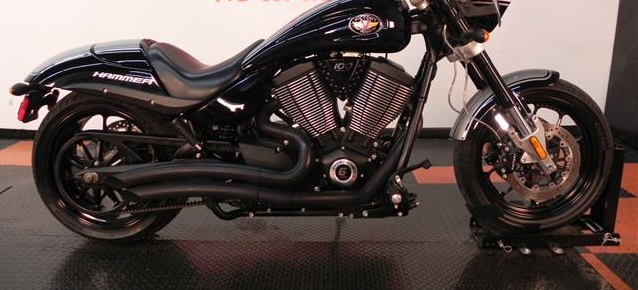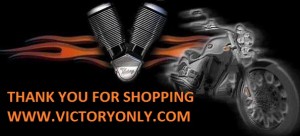 Victory Only Motorcycle carries the largest stock of performance mods, upgrades, custom equipment gear & apparel, OEM replacement and aftermarket parts & accessories for Victory Motorcycles with international worldwide shipping to Canada, Uk, CZ, GB, Australia and anywhere a Vicory Motorcycle rider wants to do it yourself customizing of a show quality bike.
Ripper Performance exhaust 2008 – 2016 Hammer Jackpot