Description
Throttle Cruise Control Assist Cruise-Mate 2008 – 2016
Guaranteed Forever!
This is a must have for any rider who travels, bar none!
Thanks to its ingenious design, the rider can lock the throttle simply by a ¼ turn of the lever, providing nearly double the vertical action when compared to the stock star wheel..
Flip of your thumb to set throttle where you want it and still operate throttle
Also Includes Installation Jig, Instructions
Requires 21/64 drill bit and 3/8-24 tap to install (sold as an option if you do not have one)
Made from aircraft grade materials, durability is a cut above the rest.
Thanks to the cleverly designed spring loaded spline, adjustments can be made on the fly.
Throttle Cruise Control Assist Cruise-Mate 2008 – 2016
Cruise-Mate consists of a solid stainless steel cartridge assembly with much coarser internal pitch, which nearly doubles the vertical action of the friction device with the same amount of motion. This allows Cruise-Mate to engage and disengage nearly twice as fast as the original star wheel device (typically 1/4 turn or less).


Cruise-Mate is positioned so it can be engaged or disengaged with a flip of your thumb and while engaging, the handle provides very good feel feedback, letting you know how much tension you're applying to the throttle.
Cruise-Mate is a mechanical throttle friction device, it does not release when applying the brakes, it needs to turned on and off manually, however you can still operate throttle with Cruise-Mate set.

Cruise-Mate utilizes a soft tip to apply pressure to the throttle tube, allowing you to still turn the throttle without doing damage to the throttle tube.
Black Cruise-Mate Motorcycle Throttle Cruise Assist
Fits: 2008- 2015 Victory Motorcycle models (except models with cruise controls beneath switch housing)
$69.99
Chrome Cruise-Mate Motorcycle Throttle Cruise Assist
Fits: 2008- 2015 Victory Motorcycle models (except models with cruise controls beneath switch housing)
$69.99
Note if Using 1/4 turn throttle rings by Lloydz we have a different model Available to adjust for the rings.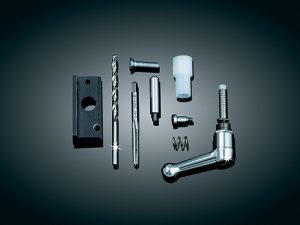 Customer Review:This was the first time I ever drilled and used a tap. It turned out great though, no issue. I will say just about anyone can install this. I used a 1/4" drill bit and a 3/8 20 tap I believe. The threads don't even have to be prefect since the piece you screw in stays in.
Throttle Cruise Control Assist Cruise-Mate
Note Victory Only is the distributor for Cruise Mate and dealer orders can be placed on website once set up with a password 
Victory Only Motorcycles carries the largest stock of custom and aftermarket parts & accessories for
Victory Motorcycle Jackpot, Victory Motorcycle 8 Ball, Victory Motorcycle Judge, Victory Motorcycle Vision,
Victory Motorcycle Cross Country Xc, Victory Motorcycle Cross Roads XR, Victory Motorcycle Boardwalk, Victory Motorcycle Highball,
Victory Motorcycle Gunner,Victory Motorcycle Kingpin, Victory Hammer, Ness Models,
Victory Motorcycle Vegas, Victory Motorcycle Vegas Jackpot, Victory Motorcycle V92C Classic Cruiser,
Victory Motorcycle V92Sc Sport Cruiser, Victory Motorcycle V92TC Touring Cruiser, Victory Hardball,
Victory Motorcycle Kingpin Low, Victory Motorcycle Gunner, Victory Motorcycle Custom Bagger Bikes,Victory Hammer 8ball,
Victory Motorcycle Custom Build Arlen & Corey Ness bikes. motorcycles with worldwide shipping to Canada, Uk,
Australia and anywhere a Victory Motorcycle rider wants to ride a show quality bike.
Throttle Cruise Control Assist Cruise-Mate 2008 – 2016