Description
White LED Bullet Driving Lights – Black, Chrome – Bolt Mount
Includes 2 Ultra Bright LED Bullet lights 2 bolts with lock washers for mounting.
28 Dual Intensity, Ultra Bright LEDs Can be operated in low or high intensity brightness.
Bullets meant to be used on the front of your motorcycle as auxiliary driving lights.
Features
Dual Intensity
Ultra Bright LEDs
Marine Grade Chrome Plating
Low Power requirements
Quick & Easy Installation
Increased Visibility
Installation & Wiring
Bullet Lights can be used as turn signals and running lights.
Most commonly installed onto fork clamps (sold separately) or replace handle bar mounted turn signal. You can use these with almost any light mounts we offer.
They are pre-wired with a three conductor jacketed wire (violet, blue, black). These lights are manufactured to meet DOT specifications for motorcycle turn signal lighting.
When mounting, Be sure to face the small 'weephole' pointing downward to allow proper drainage of any moisture; The bullet lights have the 'weephole' on the bottom of the bullet, so proper orientation is key.
Violet – High Intensity (Brake Light)
Blue – Low Intensity (Running Light)
Black – Ground
Note: When Installing our White LED Bullet lights as driving lights on the front of your motorcycle, you may not need to utilize the dual intensity function.
To achieve greater visibility by adding additional driving lights, use of the Blue (Low Intensity) Wire is not necessary.
These bullet lights are not to be used in place of a headlight, as they do not meet DOT specifications.
Specifications
Part Number: 02425
Number of Products: 2 Bullet Lights (One Pair)
Weight: 3lb
System Requirement: 12VDC
Attachment Method: Included Mounting Hardware
Diameter (in): 2.25″
Length (in): 3.33″
Wire Length: 32″-36″
Wire: 22AWG
Power Draw: 250ma
LED Color: White
Lens Color: Clear 'Euro'
Material: Finished Zinc
Package Contents: (2) 5/16″ Stainless Steel Mounting Bolts and Lock Washers
Color / Finish: Gloss Black Powder Coating or Triple Chrome
Hardware Included: Yes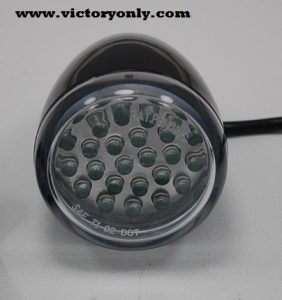 White LED Bullet Driving Lights – Black, Chrome – Bolt Mount