Adaptive LED Victory Motorcycle Headlight
Introducing a new series of bright white LED headlights with a genius IQ: The J.W. Speaker Adaptive Series™ of LED motorcycle headlights. These headlights know when you're turning and adjust the light to eliminate potentially dangerous blind spots!
Notice shortly after release the new Victory Motorcycle diamond headlight received a temporary price reduction saving $200 from the released price!
Victory Only now offers the world's first dynamically Adaptive Motorcycle Headlight™, designed to address poor visibility while cornering. These new, innovative headlights dynamically fill in the darkness with bright, white light…ultimately making riders feel more comfortable and safe.
LIMITATIONS OF TRADITIONAL HEADLIGHTS
The J.W. Speaker Adaptive Series LED headlights address a longstanding shortcoming of traditional motorcycle headlights by filling in the dark void created to the left or right of the motorcycle while cornering.
ADAPTIVE HEADLIGHTS = EXCEPTIONAL VISIBILITY
These adaptive headlights are designed with an integrated optical system that includes both an adaptive low beam as well as our proprietary ComfortLite™ high beam. Together, these optics provide best-in-class foreground illumination and light above the horizon that dramatically improves operator comfort and safety for night-time driving.

DYNAMIC PLATFORM RESPONDS IN REAL TIME
The Adaptive Series headlights use on-board sensors and advanced electronics to calculate bank angles on a real-time basis, automatically directing the light array up or down as the motorcycle leans. This additional illumination fills the gaps that your stock headlight can't when cornering at night. This adaptive headlight intelligently "tunes" low beam and banking optics in a way that maximizes visibility in corners.
SLEEK NEW DESIGN
The Adaptive Series LED motorcycle headlights include a heavy-duty, die-cast aluminum housing, state-of-the-art LEDs, and sleek design that not only delivers premium performance, but also gives your bike a truly unique look!
On-board intelligence senses leaning angles when cornering to control light
Dynamically fills in dark areas while turning
Plug & play solution for 7″ round (PAR56) motorcycle fairing and 5.75″ round (PAR46) bucket mounts & Victory Motorcycles diamond headlights!
Breakthrough improvement in visibility and safety
DOT & ECE dual-compliant headlight
MADE TO FIT YOUR RIDE
J.W. Speaker Adaptive Series lights are available in the following configurations:
To Purchase Adaptive LED Victory Motorcycle Headlight Click Here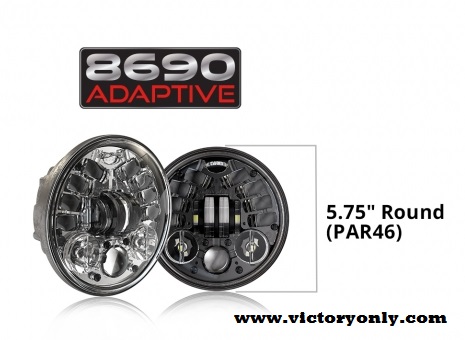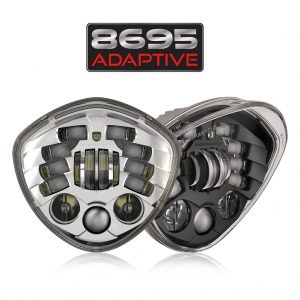 Recent Press release :
GERMANTOWN, WI – J.W. Speaker Corporation has expanded its motorcycle headlight offering to include the industry's first dynamically adaptive LED headlight designed to fit Victory® motorcycles, featuring the diamond shape unique to this application.
"We appreciate our Victory motorcycle customers and could not be more excited to give them an Adaptive Series™ headlight, offering a custom fit and plug & play installation with this dynamically advanced technology," said Kurt Kaufmann, Motorcycle Market Sales Manager at J.W. Speaker.


Adaptive LED Victory Motorcycle Headlight