FINALLY A TANK STRAP WITH POCKET XC, XR & NOW ALL MODELS
This is a question I've been getting weekly. Customers looking for a tank bib to hold a phone and wallet! We have them in stock as of today. Mounts easy and formed to the Victory tank so it doesn't have loose ends. The pocket is removable and can be changed for other pockets such as a pistol or gun pocket. If on a trip simply twist the pocket off and carry inside with you so nothing is stolen. Also works great for protecting gas tank paint.
TANK STRAP BIB REMOVABLE POCKET XC, XR CLASSIC BLACK TUXEDO™ TIE WITH POUCH
Enhances the wide Victory gas tank and provides wear and scratch protection at seat and around gas cap
Made from marine-grade vinyl
Features a generous 71/4″ x 41/2″ x 11/2″ storage pouch with a clear outer pocket
Includes EZ Lock™ mounting, which allows the pouch to be removed with a twist
Made in the U.S.A.
DIMENSION 7 1/4″ x 4 1/2″ x 1 1/2″
MADE IN THE U.S.A. Yes
MATERIAL Vinyl
MODEL Tuxedo™ Tie
MOUNT STYLE Tabs
SPECIFIC APPLICATION Yes
STYLE Pouch
TYPE Tank Cover
2010 – 2015 Victory Motorcycle Cross Country
2010 – 2015 Victory Cross Roads
2014 -2015 Victory Motorcycle Magnum
2015 Victory Motorcycle Hardball
UPDATE : NOW AVAILABLE FOR VICTORY VEGAS AND OTHER MODELS. 
Fits Victory Cruisers 2004 2016, Vegas, Kingpin, Judge, Boardwalk, Gunner, Highball, Jackpot, Hammer – See more at: https://www.victoryonly.com/product/tank-strap-bib-steel-frame-cruisers/#sthash.fhDBc3Ha.dpuf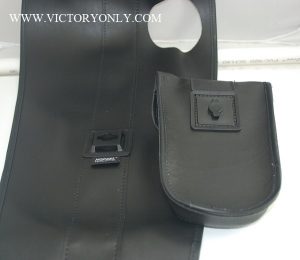 – See more at: https://www.victoryonly.com/product/tank-strap-bib-removable-pocket-xc-xr/#sthash.BAZvXL10.dpuf
FINALLY A TANK STRAP WITH POCKET XC, XR & NOW ALL MODELS