Description
Backrest Pad Large
•Solar-reflective leather in the seating area and automotive-grade vinyl on the sides; patented process reduces surface temperature by as much as 25°F for a cooler seat, higher durability and longer life over conventional leather or vinyl
•Advanced clean look with optional EZ GLIDE II™ backrest capability
•Flexible urethane foam for maximum comfort
•3/16″ ABS thermoformed seat base with carpeted bottom and rubber bumpers to protect paint
•Lower rider 11/2″ from stock seat
•Include two polished stainless steel mounting nuts and a leather fender bib for a cleaner installation
•Optional backrests feature solar-reflective leather cover and multiple detents with virtually no metal-to-metal contact for vertical and fore/aft pad adjustment
•EZ Glide II™ small backrest measures 9″ W x 51/4″ H and does not include a pouch; EZ Glide II™ large backrest measures 10″ W x 71/2″ H and includes a pouch on the backside of the pad
•"The Convertible" EZ Glide II large backrest includes a pouch on the backside of the pad.
•All backrests can be used in either position
•Optional rear pillion pads are also available in matching styles and two sizes
•Made in the U.S.A.
COLOR Black
DIMENSION 10″ W x 7 1/2″ H
MADE IN THE U.S.A. Yes
MATERIAL Leather
MODEL EZ Glide II
POSITION Driver
SIZE Large
SOLAR REFLECTIVE Yes
STITCH Smooth
STYLE Smooth with pouch, no rain cover
TYPE Backrest
Fits all Victory Vegas.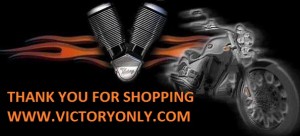 Victory Only Motorcycle carries the largest stock of performance mods, upgrades, custom equipment gear & apparel, OEM replacement and aftermarket parts & accessories for Victory Motorcycles with international worldwide shipping to Canada, Uk, CZ, GB, Australia and anywhere a Vicory Motorcycle rider wants to do it yourself customizing of a show quality bike.
Backrest Pad Large