Description
1998 – 2001 Victory Cam Upgrade by Andrews 92 CU
Looking for a performance Victory Cam Andrews has your answer!
Victory Cam for Victory 92 Cubic Inch Motor V-Twins by Andrews
Made in the U.S.A.
Easy installation (with no head work required) with a big boost in HP and torque over the entire RPM range
Similar to stock cams but timing advanced for more torque and HP at low and middle RPM speeds
Long duration cams for engines with higher compression ratios and low restriction exhausts
Big boost in HP and torque at middle and upper RPM speeds
works great with our Victory Vented Airbox and a k&N Filter
2001
Victory
V 92 C Deluxe
–
–
2000 – 2001
Victory
V 92 SC
–
–
2000
Victory
V 92 C SE
–
–
1998-2001
Victory
V 92 C
INTAKE LIFT 0.402″
EXHAUST LIFT 0.402″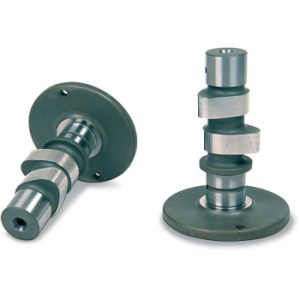 Andrews Products is a full-service manufacturer for camshaft design, software and related technical training to support your complete development process from basic designs to finished parts. Our camshaft design programs allow end users to examine multiple designs in a short period of time, (minutes). Programs will run on any PC with a Win XP, Win 7, Win 8 or Win 10 operating system. Full screen graphic capability makes it easy to visualize and analyze cam design data for a wide variety of camshaft applications. Our analysis program can export a finished cam lobe design formatted for CNC cam lobe grinders, lobe milling machines and automated inspection equipment including Landis, Phillips, Adcole and others.
Also if you have an Indian Motorcycle please check out our Indian Motorcycle Site
1998 – 2001 Victory Cam Upgrade by Andrews 92 CU