Description
ASR Floorboards With Adapters – Chrome or Black
The ASR Floorboards are designed with comfort, style, and versatility in mind.
Multiple mounting points and splined peg adapters allow you to find the perfect position whether you're using them as passenger boards, highway pegs, or driver floorboards.
The unique, aggressive styling was created in conjunction with Adam Sandoval in an effort to maximize comfort, grip, and durability.
Improves Comfort
Aggressive Style
Maximum Adjustability
Ideal Size for Passenger or Driver
Quick Installation
Dimensions: 4″ width x 6 3/8″ length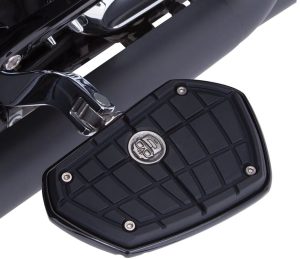 **8828 ADAPTER SPLINED VICTORY Included**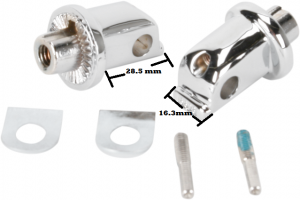 Fits the following and more models.
2010 – 2017 Victory Cross Country Passenger only if equiped with peg style mount see picture of adapter size (not rear on Xc Tour with floorboards)
2010 – 2014 Victory Cross Roads Passenger only Passenger only if equiped with peg style mount see picture of adapter size (not rear on Xc Tour with floorboards)
2006 – 2017 Victory Hammer fits Driver or Passenger
2005 – 2017 Victory Hammer 8-Ball fits Driver or Passenger
2005 – 2017 Victory Hardball fits Driver or Passenger
2006 – 2017 Victory Jackpot fits Driver or Passenger
2005 – 2013 Victory Kingpin fits Passenger Only
2005 – 2013 Victory Kingpin 8-Ball fits Passenger Only
2005 – 2017 Victory Vegas 8-ball fits Driver or Passenger
2005 – 2017 Victory Vegas fits Driver or Passenger
2014 – 2017 Victory Gunner fits Driver or Passenger
2014 – 2017 Victory Highball fits Passenger Only
2014 – 2017 Victory Boardwalk fits Passenger Only
2014 – 2017 Victory Judge fits Driver or Passenger
ASR Floorboards With Adapters – Chrome or Black