Description
Gerbing Gyde 7V Heated Torrid Men's Softshell Vest
The Torrid Softshell Vest gives you unprecedented warmth and flexibility in the most extreme conditions. Built to protect you with four-way stretch soft shell material, a bonded fleece back and four patented Microwire™ heating zones, you won't want to leave home without it.
Gerbing Gyde 7V Battery Heated Jackets & Vests Include :
7V 3400 mAH Rechargeable Lithium-ion Battery Pack (25.16Wh)
Wall Charger
Detailed Instructions
Gerbing Lifetime Warranty
Gerbing Gyde Torrid Shell Features:
Four-way stretch softshell material with bonded fleece back
DWR finish repelling snow and rain
Four Microwire heating zones: collar, chest (2), and back
Reaches temperatures up to 135 F
Equipped with a dual-mode 7-volt battery and wall charger
Ideal mid-layer or outerwear piece
Four Zone Heated for Targeted Warmth: Neck, Chest (2), Back
Water and Wind Resistant
Retains Heat
Battery has 4 heat-settings as indicated by lights and Heat Times:
100% (4 red/blue lights) – 2 Hours 75% (3 red/blue lights) – 3 Hours
50% (2 red/blue lights) – 5 Hours
25% (1 red/blue lights) – 8 Hours
Charging Battery:
We recommend charging overnight for first charge.
Charge 100% before use (a full charge takes about 3 hours).
A red light will appear on wall charger when charging.
The red light will change to green when charged.
Maintain at least 25% power when battery is not in use. This practice will prolong the life of any 7V battery.
How it Works:
Step 1: Power on by pressing and holding power button.
Step 2: To change temperature, press and hold power button until LED light reflects the desired setting. *Power level setting can only be indicated when connected to garment.
Step 3: Check remaining battery life by disconnecting battery from product. Press and hold power button, LED indicator will show 1 to 4 lights.
LED lights to indicate remaining power will illuminate (4 lights is full power).
How to Power Up:
Step 1: Locate power pocket; it will be on the wearers left outer pocket.
Step 2: Open pocket and locate power plug.
Step 3: Turn on battery by holding power button until it lights up.
Step 4: Insert plug into battery port and push down to secure it in the plug holder. • Step 5: Push power button on battery to select the setting you would like.
Step 6: Place battery into pocket and close the pocket.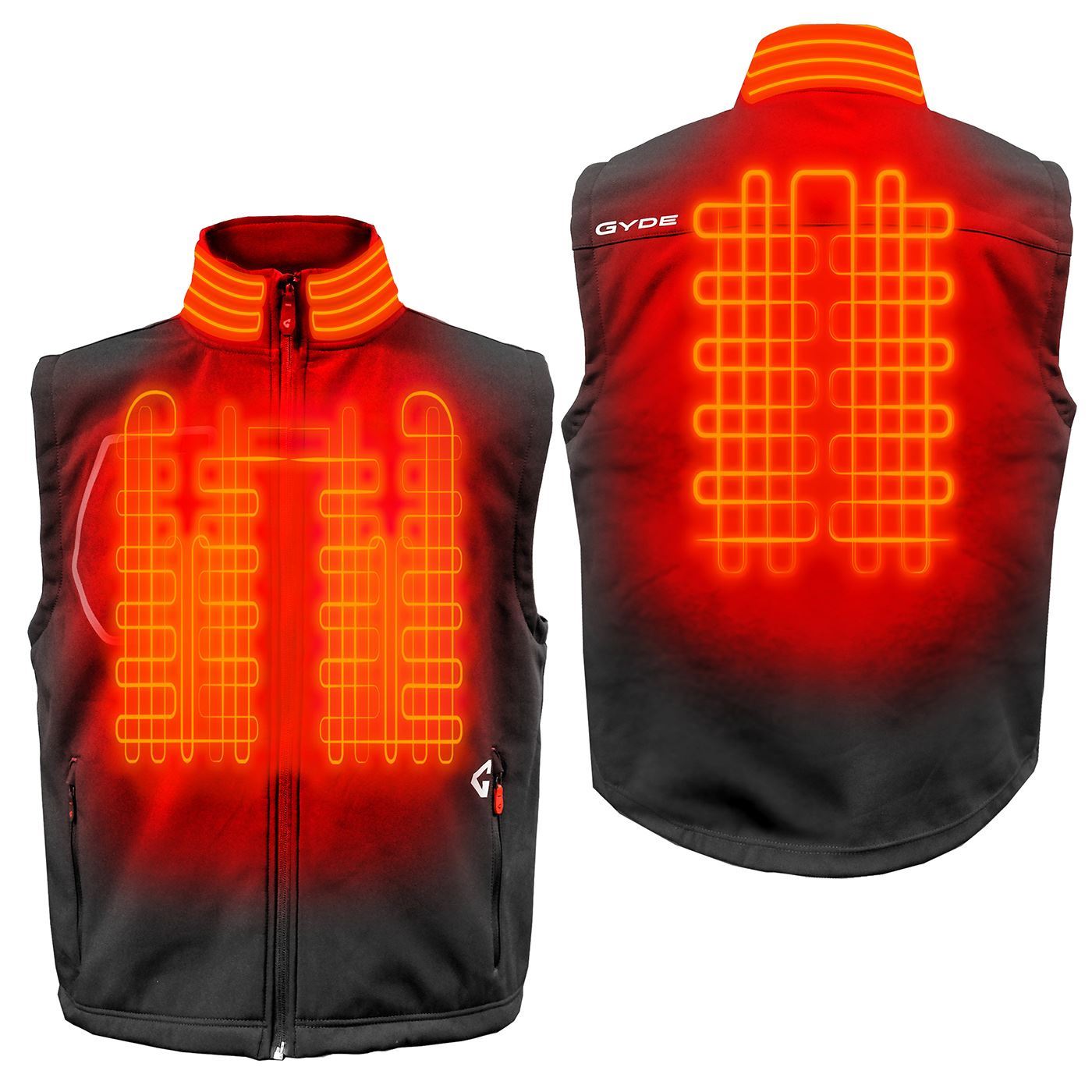 Gerbing Gyde 7V Heated Torrid Men's Softshell Vest