Description
Gerbing Gyde 7V Men's Thermite Fleece Heated Vest
When only layering up will do, or you need the added flexibility of leaving your arms free, the Thermite Fleece Vest has you covered. Remarkable warmth is driven by four patented Microwire™ heating zones encapsulated by a lofted anti-pill composition. This vest keeps you warm as you tackle the elements head-on.
Gerbing Gyde Heated Jackets & Vests Include:
7V 3400 mAH Rechargeable Lithium-ion Battery Pack (25.16Wh)
Wall Charger
Detailed Instructions
Gerbing Lifetime Warranty
Our Thermite fleece program is composed of a deep, soft pile obtained by heavily napping with wire brushes. It is a two-sided pile fleece, which provides air space giving good insulating properties without too much weight. A lightweight, warm, soft fabric, with hydrophobic attributes and holds less than 1% of its weight in water. It retains much of its insulating properties, even when wet. Unlike other synthetic fleece, polyester fleece is known for its ability to resist pilling, even after extended use. To update the fleece, we developed a honeycomb structure to give the fabric a more unique look, while maintaining functionality.
Heated Fleece Vest Features:
Exceptional warmth with lofted anti-pill fleece composition
Core fibers help conserve heat and wick moisture away from the body
Hydrophobic properties hold less than 1% of its weight in water
Four Microwire heating zones: collar, chest (2), and back
Reaches temperatures up to 135 F
Equipped with a dual-mode 7-volt battery and wall charger
Ideal mid-layer or outerwear piece
Four Zone Heated for Targeted Warmth: Neck, Chest (2), Back
Battery has 4 heat-settings as indicated by lights and Heat Times:
100% (4 red/blue lights) – 2 Hours 75% (3 red/blue lights) – 3 Hours
50% (2 red/blue lights) – 5 Hours
25% (1 red/blue lights) – 8 Hours
Charging Battery:
We recommend charging overnight for first charge.
Charge 100% before use (a full charge takes about 3 hours).
A red light will appear on wall charger when charging.
The red light will change to green when charged.
Maintain at least 25% power when battery is not in use. This practice will prolong the life of any 7V battery.
How it Works:
Step 1: Power on by pressing and holding power button.
Step 2: To change temperature, press and hold power button until LED light reflects the desired setting. *Power level setting can only be indicated when connected to garment.
Step 3: Check the remaining battery life by disconnecting battery from product. Press and hold power button, LED indicator will show 1 to 4 lights.
LED lights to indicate the remaining power will illuminate (4 lights is full power).
How to Power Up:
Step 1: Locate power pocket; it will be on the wearers left outer pocket.
Step 2: Open pocket and locate power plug.
Step 3: Turn on battery by holding power button until it lights up.
Step 4: Insert plug into battery port and push down to secure it in the plug holder.
Step 5: Push power button on battery to select the setting you would like.
Step 6: Place battery into pocket and close the pocket.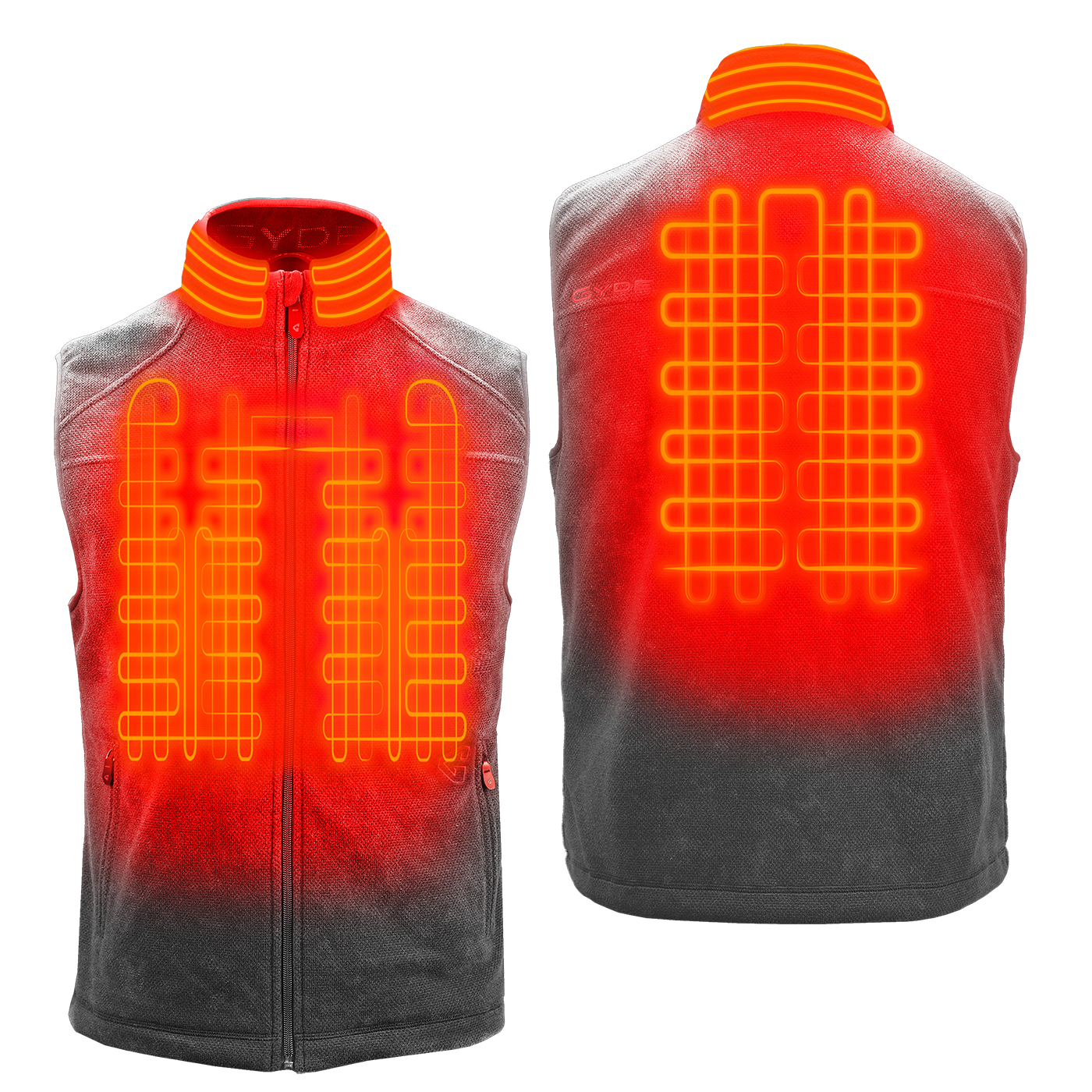 Gerbing Gyde 7V Men's Thermite Fleece Heated Vest