Description
Glassless Mirror Black Convex CNC
m.View Race Metalmirror
Using ultra-precision CNC machines with diamond tooling delivers the clarity of glass within the minimalist package of machined aluminum. The brilliant surface finish of this convex mirror is sealed using a complex plasma coating process. This patented surface is complimented by additional precision-machined components, all anodized to the highest standards.
Victory Only presents its glassless mirror series m.view. The special feature of this motorcycle mirror is the patented mirror surface, which is machined directly into the metal body. The Aluminium itself is the mirror surface! A weightless design without edge and frame is possible and the mirror body itself becomes very thin and light. Shattered glass or fallen out glass are simply not possible!
An elaborate fly-cutting process, using diamond cutting tools on ultra precision CNC machines, machines the convex mirror surface directly out of solid aluminum. To protect the surface motogadget applies, in a vacuum, a special plasma coating which makes it absolutely resistant to scratches, corrosion and oxidation.
The mirror and mirror arms are CNC machined from billet aluminium. Deep black anodizing gives them a distinguished appearance. All components such as bolts and ball-joints are made of stainless steel. This makes for precise and stable adjustment of the mirrors.
Features:
All aluminum mirror body
Convex diamond-polished aluminum mirror surface
Plasma-coated mirror surface
Precision ball joint
Stainless steel hardware
Robust anodizing
Sold each
Includes:
(1) m.View mirror w/ stem
(1) M10x1.5 right thread stainless steel bolt
(1) M10x1.25 left thread stainless steel bolt
(1) M10x1.25 right thread stainless steel bolt
Dimensions:
Width of mirror body: 129mm
Height of mirror body: 80mm
Thickness of the mirror body without ball head: 4.5mm
Length of the stem: 150mm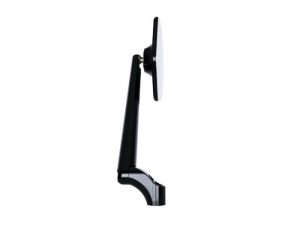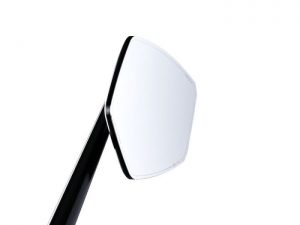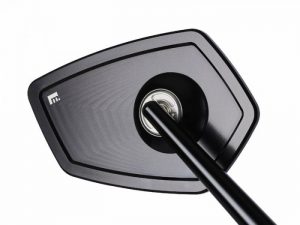 Glassless Mirror Black Convex CNC