Description
Hitch for Victory Vision NON ABS Model

PIN HITCH STYLE
Hitch will fit all years and models of the Victory Vision that are NOT ABS equipped except Arlen Ness models.
Black powder coated hitch and chrome mount with pin.
Includes stainless steel locking system with dust cover, complete hardware kit, and receiver lock.
The Electronic Relay Isolator Package with Universal Subharness not included with this hitch package but is highly recommended
Hitch for Victory Vision NON ABS Model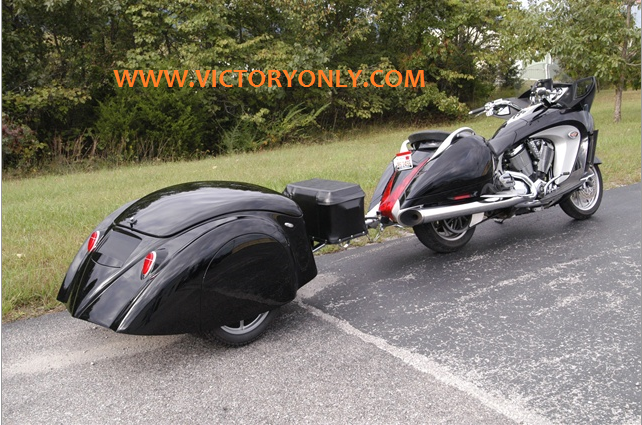 HITCH SYSTEM CONTENTS FOR VICTORY VISION
1 Left Side Arm Hardware Package Including:
1 Right Side Arm 4 8mm-1.25 x 30mm Hex Bolt
1 Center Section 2 8mm-1.25 x 35mm Hex Bolt
1 Strut Mount Plate 2 8mm-1.25 Nylock Nut
2 Struts 108 (flat) 4 ¼" Flat Washer
2 Short Support Struts 2 3/8"-16 x ¾" Hex Bolt Gr. 8
2 Z Tabs (flat stock with 90 degree 10 3/8"-16 x 1" Hex Bolt Gr. 8
tabs on each end) 2 3/8"-16 x 1 ¼" Hex Bolt Gr. 8
1 Vertical Receiver Hitch Head with 12 3/8"-16 Nylock Nut
EITHER 1 7/8 inch SS ball OR 1 85" Relay Power Wire Extension
Pin and Lock (16 Ga. Red and Black Wires)
1 Receiver Lock 1 Yellow Butt Connector
1 EC Electronic Relay Isolator 7 Blue Butt Connector
Package with Universal Subharness
Installation Instructions Victory Vision Motorcycles
Victory Only Motorcycles carries the largest stock of custom and aftermarket parts & accessories for
Victory Motorcycle Jackpot, Victory Motorcycle 8 Ball, Victory Motorcycle Judge, Victory Motorcycle Vision,
Victory Motorcycle Cross Country Xc, Victory Motorcycle Cross Roads XR, Victory Motorcycle Boardwalk, Victory Motorcycle Highball,
Victory Motorcycle Gunner,Victory Motorcycle Kingpin, Victory Hammer, Ness Models,
Victory Motorcycle Vegas, Victory Motorcycle Vegas Jackpot, Victory Motorcycle V92C Classic Cruiser,
Victory Motorcycle V92Sc Sport Cruiser, Victory Motorcycle V92TC Touring Cruiser, Victory Hardball,
Victory Motorcycle Kingpin Low, Victory Motorcycle Gunner, Victory Motorcycle Custom Bagger Bikes,Victory Hammer 8ball,
Victory Motorcycle Custom Build Arlen & Corey Ness bikes. motorcycles with worldwide shipping to Canada, Uk,
Australia and anywhere a Victory Motorcycle rider wants to ride a show quality bike.
Hitch for Victory Vision NON ABS Model