Description
1-1/2″ Phatty Merc Ape HandleBars Steel frame models
Our new 1-1/2″ Phatty Merc ape handlebar for Victory Motorcycles 8 ball, Victory Jackpot, Victory Highball, Victory Judge , Victory Gunner, Victory Vegas, Victory Hardball, Victory Cross Roads, Victory Hammer, and Victory Kingpin  bikes
Available in 12, 14, and 16 inch Heights
$389.99 plus shipping
1-1/2″ tubing stepped down to 1 inch at the hand controls and riser clamp
34" tip to tip
10" of pullback
9" inside center to center
2008 to 2017 Victory Gunner (needs extended brake line on 14 plus bar heights)
2008- 2017 Victory Highball (needs extended brake line on 14 plus bar heights)
2008 – 2017 Victory Kingpin (needs extended brake line on 14 plus bar heights)
2008 – 2017 Victory Boardwalk (needs extended brake line on 14 plus bar heights)
2008 – 2016 Victory Hammer (needs extended brake line on 14 plus bar heights)
2008 – 2016 Victory Highball (needs extended brake line on 14 plus bar heights)
2008 – 2016 Victory Jackpot (needs extended brake line on 14 plus bar heights)
2008 – 2016 Victory Judge (needs extended brake line on 14 plus bar heights)
2003- 2016 Victory Vegas & Kingpin (needs extended brake line on 14 plus bar heights)
2008 – 2017 Victory Hardball
2008 – 2017 Victory Cross Roads
Note Some Years will need extended brake line.
The fit chart is supplied by manufacturer and as accurate as they could research.
With mid year changes and different models there is no way to be exact to which cables may be needed but we do attempt to disclose to the best of our ability.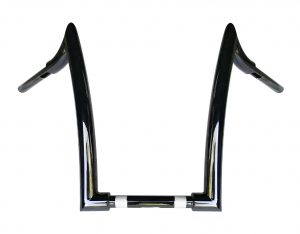 1-1/2″ Phatty Merc Ape HandleBars Steel frame models