Trunk Corbin Smuggler Seat Kit Color Matched
$1,299.00 – $1,499.00
Trunk Corbin Smuggler Color Matched
Corbin Smuggler Trunk for 2007 – 2015 Victory Motorcycle Vision
Radically change the look of your Vision into this stunning Solo Tour conversion with the Corbin Smuggler!
If you tour solo or commute on the big Victory, you'll love this Smuggler.
Artfully designed and color matched to your paint to give a totally integrated look while adding convenient storage.
In fact, the Smuggler trunk provides enough space that most of your daily essentials will be right at hand without using the side bags.
Smuggler provides a very clean look and gives excellent rider comfort up front.
Built to follow the lines of the Vision and flow with the body for a deceptively small appearance.
Pop open the door and you have access to over 15 liters of locking storage.
Use Smuggler for just about anything you want secure and easy access to and items like iPads and Netbooks for work.
You'll find the Smuggler so convenient that it will quickly become your primary storage.
Smuggler and Front Saddle install as a single piece and bolt to stock locations on your bike.
Once Order is Placed we will contact you for VIN # and Color Codes. Custom Seat Panels, Side panels and Welts will be verified at that time. Price does not include Shipping. We can quote shipping prior or post to ordering.
Comes with Rider seat and trunk. Bags are sold separate
Measurements:

Rider seating: 17″ wide x 14″ long
Back Support: 8″ tall
Capacity: Approximately 15 liters
Slick details like the center vee pick up the specific details of the bike and lend a bit more flair. Our patented molding process and exclusive materials create a part with very minimal variation from piece to piece. This allows us the ability to design a very close fit to the bodywork. Smuggler is then hand-finished and custom painted with quality materials from companies like PPG and House of Kolor (varies by color selected).
Up front, the enhanced ergonomics create a perch that provides long range comfort. Using our exclusive high-density Comfort Cell foam, we can build a supportive saddle without a bulky shape. Corbin's Wizards are masters at combining form and function into a saddle that makes you as happy to look at as it does to ride on. For those chilly morning rides, the Corbin seat has optional electric heat that operates with a conveniently located switch on the left side. Installation is simple and it wires directly to the stock Victory wiring.
Notice how the bucket is dished to emulate the shape of your body and along with the Smuggler bump pad provides eight inches of vertical back support. This gives excellent comfort for longer range. Neutralized seating helps to curb sliding in the saddle which greatly reduces rider fatigue. We include your choice of color options for looks from outrageous to stealthy. The cover design used here works great on the bike regardless of paint color. Shown in Mercedes leather seating with Asphalt vinyl sides and a color coordinated welt. Our custom stitch pattern makes a nice finishing touch.
Smuggler comes fully lined to help protect your cargo and cushion some of the road noise. Naturally, the door opening is fully weather stripped to guard against foul weather as well. Locking door keeps things secure and simple to access. Front saddle and Smuggler install on the bike as one piece with a Corbin designed latch system. All required brackets included.
UNIQUE TECHNOLOGY: The design and manufacture of Corbin products is so unique that Mike Corbin himself holds more than 60 United States Patents! From the process itself to new innovations like the Corbin Glovebox, you can count on highly functional and unique products that work.
FIBERTECH™ BASEPAN: A purpose built, hybrid material that provides a firm foundation to support the carefully designed ergonomics of the Corbin saddle. Provides a precision fit to every arc and contour of the machine and rides on rubber bumpers to protect your paint. We always design our basepans as flat as possible so bumps or odd shapes don't telegraph through the foam to your body.
ERGONOMIC SHAPING: A major part of the design criteria of the Corbin saddle is the Ergonomic shape. This means the saddle's foam shape is designed to emulate the curves of the human body. This provides more square inches of body contact and helps to eliminate hot spots. This shaping also neutralizes the seating platform to help curb sliding in the saddle which reduces fatigue.
COMFORT CELL® FOAM: The heart of the Corbin saddle! Our exclusive, purpose built foam material, called Comfort Cell, was created to provide a firm, resilient ride that doesn't break down. This means it will support you for long days on the road. Over time, Comfort Cell will break in to provide a personalized fit to your posture and even greater comfort!
PATENTED MANUFACTURING TECHNOLOGY: Always an innovator, Mike Corbin invented Integrated Molding technology which is now the process by which all Corbin saddles are made. This process allows extremely tight tolerances and creates a chemical bond between the foam and base material.
GENUINE LEATHER: We use leather in all panels of the seat that contact your body. This provides a luxurious ride that breathes with your body. Leather will also break in along with the foam shape to support the personalized fit.
ELECTRIC HEAT OPTION AVAILABLE : As an option we can include electric heat in this saddle! This option provides a true bit of luxury for when the temperature starts to drop. Simple to install with major components pre-built into the saddle. Just wire in the included pigtail and you're ready to roll. Corbin seat heater plugs into your stock Victory wiring.
Finish

When ordering parts in "primer gel-coat" you can expect a part ready for your painter's preparation. Most Corbin components are also available prepainted and ready for immediate installation. Please be sure to specify the year and model of your Victory along with the Color Code.

Smuggler Interior

Corbin Smuggler comes fully lined with a nice, thick grey liner on the inside to protect your cargo. Sure seal weather stripping around the door keeps out the elements. Locking door keep contents secure.
CORBIN VISION SMUGGLER INSTALL INSTRUCTIONS
EXPORT SALES: USA pricing shown. When products are shipped throughout the world, you will see higher prices because of freight, customs, duty & applicable taxes. Please consider these costs when purchasing Corbin products outside the USA. We will compute freight charges and add them to the order. BUYER will be responsible for customs, taxes, duty or other charges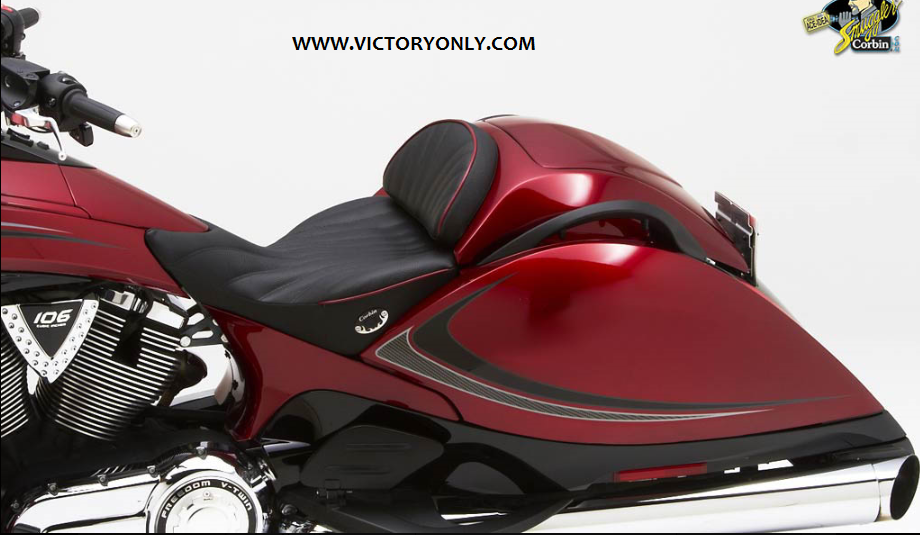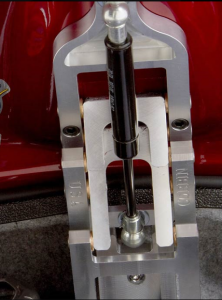 Trunk Corbin Smuggler Color Matched
Related Products