Description
Trunkbox Corbin Victory Cross Roads and Cross Country
Corbin's trunk box is large enough for a single full face helmet… or for you commuters, an average 15″ laptop computer. Shaped to emulate the design of the bodywork and visually blend in with the bike. This does a fabulous job of concealing just how big the trunk is on the inside.
Installs easily using a luggage rack style bracket (sold separately) and works with your stock or Corbin seat system. Manufactured using rotational molding (rotomolding) to allow very complex shapes and tight manufacturing tolerances. Our proprietary polyurethane material offers a beautiful finish with excellent impact characteristics and weather resistance. Additionally our material is extremely resistant to vibration which makes it perfect for motorcycle applications.
We've positioned the trunk to provide good passenger back support and include a coordinated pad to complete the look. As you can see in the photos above, we can coordinate this pad to your Corbin saddle or make it in plain black to blend in with your stock unit. Built up using the same high density Comfort Cell foam as Corbin saddles to offer firm support that lasts. Covered in genuine leather for excellent feel.
Trunk comes fully lined on the inside and is painted to match your OEM paint scheme. Door is fully weather stripped and is lockable to protect your cargo. Please note, the Skull graphics kits are no longer available.
Mounting bracket installs easily and mounts to existing locations on the Victory chassis. Durable steel bracket is painted black for a subtle appearance.
A Special Note: We're often asked about repair when some unfortunate circumstance damages a Corbin trunk or saddlebag. We're happy to say that our materials are easily repaired &/or repainted by virtually any bodyshop or painter. We hope you never have to find out, but should you ever accidentally damage your trunk, help is as close as your local body shop.
Victory Only Motorcycle carries the largest stock of performance mods, upgrades, custom equipment gear & apparel, OEM replacement and aftermarket parts & accessories for Victory Motorcycles with international worldwide shipping to Canada, Uk, CZ, GB, Australia and anywhere a Vicory Motorcycle rider wants to do it yourself customizing of a show quality bike.
Note these are made to order by Corbin and painted to match. The wait times average 6 weeks but at busy times that can vary. Feel free to send us an email of what you would like to order and we will be happy to verify the wait time prior to the order.
Polyurethane Construction

Manufactured of a specially designed polyurethane material for durability and a clean finish. Provides for very tight tolerances with minimal shrinkage so each part comes out true to the original design.

Finish

When ordering parts in "primer gel-coat" you can expect a part ready for your painter's preparation. Most Corbin components are available prepainted and ready for immediate installation.

Interior

Corbin trunkbox comes fully lined with a nice, thick grey liner on the inside to protect your cargo. Sure seal weather stripping around the door keeps out the elements. Locking door keeps contents secure.

Leather Bump Pad

For the comfort and security of your passenger. Coordinated with your Corbin saddle for a totally integrated look and sculpted to provide maximum amount of body contact and back support
ORDERING Trunkbox Corbin Victory Cross Roads and Cross Country

Please select cover options from the drop down boxes before adding to cart. We will verify all selections with you before starting production. Have questions? Just click on the "Glossary" or "Materials" button for answers. NOTE: Drop down boxes do not default to descriptions shown on product above.
THIS HASN'T BEEN AN ISSUE ON ANY VICTORY BOX OR BAGS IVE ORDERED IN THE PAST BUT CORBIN ASKS WE POST THIS: We do not always have a color match for all brands and models, especially at the beginning of the year when the new models come out. Please enter your bike year and paint color below and we will contact you if we do not currently have the color matched.
We will need the model year and paint code before we finalize the order. The Morning After we receive your order we will call and discuss the color code if you haven't emailed year and color code already.
INSTALLING
Installation is simple using Corbin Rack bracket, sold separately.
Complete illustrated instructions included. Trunk MAY work with other luggage racks, but has not yet been tested to do so.
When loading heavy items, be sure to place them in carefully. "Thowing" heavy items like disc locks into the trunk can create cracks or stress marks in the paint on the outside.
We no longer have access to the skull design emblems from Victory, sorry.
FIBERGLASS WARRANTY: Structural integrity of Corbin fiberglass components are warranted to the original owner for life. Finish and paint are warranted against manufacturing defect for one year. Damage to product and / or painted surfaces from outside forces or misuse is specifically not covered under warranty. Cash or credit refunds are not available. All goods being handled for customer service consideration must be accompanied by a Corbin receipt and a Return Material Authorization (RMA) number.
PLEASE NOTE: Corbin products are designed to fit very close to your bike for a clean look. Due to this, other accessories or options can inhibit proper fit. As an example: Tank Consoles (dashes), ignition modules, exhaust systems, sissy bars, etc. If you have accessories installed on your bike, please let us know so we can verify the fit for you.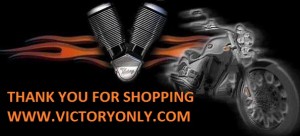 Trunkbox Corbin Victory Cross Roads and Cross Country