Description
Wide Touring Vintage Solo Seat with Driver Backrest Insert No Studs No Conchos
Victory Motorcycle Kingpin, Victory Motorcycle  Vegas, & Victory Motorcycle  8-Ball 2003 2018 Wide Vintage Solo with Driver Backrest, No Studs, No Conchos.
NOTE: Mustang Seats will not fit with Tour-Pak on Victory Motorcycle  Kingpin Tour models.
Seats will not fit with a luggage rack on the 2012- 2018 Victory Motorcycle Vegas models.
Will not work with stock seat
NOTE: Mustang Seats will not fit with Tour-Pak on 
Victory Motorcycle
Kingpin Tour models.
Seats will not fit with a luggage rack on the 2012- 2017
Victory Motorcycle 
Vegas models.
Optional Driver Backrests


Some styles of Mustang seats are available with a built-in, removable driver backrest which offers more features than any other backrest on the market (see Removable Driver Backrests below).
The receptacle hardware is built directly into the seat.
Removable Driver Backrests
The more you ride, the more you realize that "the most comfortable seat possible" means comfort for your back as well as for your bottom.
Nothing takes the fatigue out of riding more than having full back support and being able to effortlessly adjust your lumbar support frequently.
Whether sitting in your living room, car or on your motorcycle, your back deserves the best support possible.
Mustang's driver backrests are designed and manufactured to the highest standards to be the most comfortable driver backrest on the market—and the answer to your riding comfort, cross-town or cross-country!
Check out our Driver Backrest features:
The contoured pad measures approximately 7″ h x 12″ w.

Folds completely flat for ease of getting on your motorcycle.
Completely adjustable: up/down, back/forward and pivots:

The backrest post is notched allowing four easy "snap-in-place" height adjustment positions.
The chromed, knurled thumb screw easily adjusts the tilt angle of the backrest forward or back up to 2″ while you are seated.
Thumb screw is notched and will not fall out.
Backrest pivots to match your back angle.

All exposed hardware is chrome-plated for a custom look.
Studded styles feature chrome studs on the back, not on the top where you might catch them with your boot.
Chrome steel backrest post slides in and out of receptacle that is reinforced and riveted directly into the base plate for strength.
Ball-end, spring loaded detent screw is set at the factory to ensure positive height adjustment stops.
Foam surrounds the hardware to provide maximum comfort.
Nylon friction washers and stop nuts keep the mechanism tight with smooth operation.
Backrest is easily removed without any tools or the need to remove the seat.
When backrest is not in use, the receptacle's slot is covered by a leather flap held tightly with a hook-and-loop closure for a smooth, clean appearance.
Can a driver backrest be added later to a seat?
No. The receptacle that houses the receiver mechanism for the driver backrest is built into the seat baseplate. It is carefully engineered for utmost strength for driver safety. This receiver cannot be added to an existing Mustang seat.
Are Mustang solo seats with driver backrests compatible with stock passenger seats?
No. Mustang solo seats with driver backrests are not compatible with most stock passenger seats because the passenger seat would overlap with the backrest post and receptacle.
Mustang manufactures a passenger seat that is specifically designed to be recessed to avoid any interference from the driver backrest.
I want the full support that Mustang's backrest offers but I'm really tall with long arms. Will I have ample room?
Most riders are satisfied with the standard backrest post, but those who need more room from the handlebars can opt for an "offset post" that will set the backrest back slightly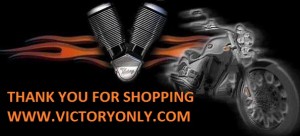 Victory Only Motorcycle carries the largest stock of performance mods, upgrades, custom equipment gear & apparel, OEM replacement and aftermarket parts & accessories for Victory Motorcycles with international worldwide shipping to Canada, Uk, CZ, GB, Australia and anywhere a Vicory Motorcycle rider wants to do it yourself customizing of a show quality bike.
Wide Touring Vintage Solo Seat with Driver Backrest Insert No Studs No Conchos