Description
Seat Wide Mustang with Backrest Vegas Kingpin Highball
WIDE TOURING MUSTANG SEAT WITH DRIVER BACKREST FOR VICTORY VEGAS OR KINGPIN
•Deeply contoured front bucket; passenger seat angles forward to support the rider's back
•Premium-quality expanded vinyl cover
•Built-in steel support wings in the passenger seat
•Studded style has skirt with conchos, accent studs and a braid that extends below the edge of the seat
•Vintage has a clean look with no studs or conchos
•Removable contoured driver backrest pad measures 7″ H x 12″ W x 1.5″ D
•Backrest folds completely forward for ease of getting on motorcycle
•Backrest pivots to match your back angle
•Rounded thumb screw adjusts backrest forward and back up to 2″ while you are seated
•Backrest easily snaps into four height positions
•Made in the U.S.A.
Note Passenger backrest is sold separate. Will also mount with Victory OEM optional backrest for passenger.
Fits
2003 – 2012 Victory Kingpin
2003 – 2012 Victory Kingpin Deluxe
2003 – 2012 Victory Kingpin Low
2003 – 2012 Victory Kingpin Tour
2003 – 2014 Victory Vegas
2003 – 2014 Victory Vegas 8-ball
2003 – 2012 Victory Vegas Deluxe
2003 – 2012 Victory Vegas Jackpot
2003 – 2012 Victory Vegas Low
2012-2014 High Ball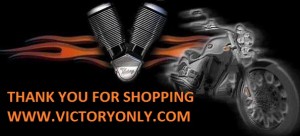 VICTORY ONLY OFFERS CUSTOM SEATS FOR VICTORY VEGAS AND KINGPIN WITH MANY OPTIONS TO CHOOSE FROM INCLUDING DRIVER BACKREST WITH 3 ADJUSTABLE STYLES AND CUSTOM STITCHING INCLUDING FLAME AND THE TRADITIONAL PILLOW SEAT FOR SOFT COMFORTABLE RIDING. WE STOCK SEATS AND SHIP FAST. THEY WILL BE AT YOUR DOOR BEFORE YOU CAN GO TO YOUR LOCAL DEALER AND FIND THEIR CATALOG TO ORDER FROM. Victory Only Motorcycle carries the largest stock of performance mods, upgrades, custom equipment gear & apparel, OEM replacement and aftermarket parts & accessories for Victory Motorcycles with international worldwide shipping to Canada, Uk, CZ, GB, Australia and anywhere a Vicory Motorcycle rider wants to do it yourself customizing of a show quality bike.
Seat Wide Mustang with Backrest Vegas Kingpin Highball