Description
Solo Seat Low Profile Red Diamond Vegas Kingpin Highball Gunner
Solo Seat Low Profile Diamond Vegas Kingpin Highball Gunner
Solo Seat, Low Profile Vegas Diamond (NO INSERT FOR BACKREST)
Due to the demand for this seat we are now offering it as a stocking seat. No longer 3 to 4 week custom build needed.
Solar-reflective leather in the seating area and automotive-grade vinyl on the sides
patented process reduces surface temperature by as much as 25°F for a cooler seat, higher durability and longer life over conventional leather or vinyl
Lower position creates better rider position with improved styling
Flexible urethane foam for maximum comfort
3/16″ ABS thermoformed seat base with carpeted bottom to protect paint
Include mounting hardware
Stocking Color Yes
COLOR Black, Red
MADE IN THE U.S.A. Yes
SPECIFIC APPLICATION Yes
STITCH Diamond
STYLE Custom Replacement 
TYPE Solo Seat
Seat has Black Stitching over the Red Leather seating area to give it a great contrast and custom seat look.
Red looks great with the Red accent in the Victory Logo on tank badge. really brings out the red in the logo!
| Year | Make | Model |
| --- | --- | --- |
| 2012 – 2018 | Victory | Highball |
| 2004 – 2016 | Victory | Kingpin |
| 2003 – 2018 | Victory | Vegas & Gunner |
| 2005 – 2018 | Victory | Vegas 8-ball |
Note Does not fit a Victory Vegas Jackpot which was a special edition with Vegas front end and Jackpot rear end. 
VICTORY ONLY OFFERS ANOTHER CUSTOM SOLO SEAT FOR VICTORY MOTORCYCLE RIDERS.
VICTORY MOTORCYCLE SOLO SEAT TO FIT VICTORY HIGHBALL, Victory Vegas, Gunner & KINGPIN
MANY STYLES TO CHOOSE FROM INCLUDING FLAME, DIAMOND STITCH, SMOOTH, AND OPTIONAL BACKREST ON SOME MODELS.
SOLO SEATS SHOWN WITH DRIVER BACKREST FOR EXAMPLE ONLY AND NOT INCLUDED WITH THE SEATS SHOWN.
SEATS ARE LOW PROFILE AND REALLY A COMFORTABLE LOOK. ALSO LOOK GREAT WITH OUR FENDER CONTOUR REAR RACK IN CHROME OR BLACK.
SPECIAL ORDER SEATS ALSO AVAILABLE WITH COLORED STITCHING WITH AN ESTIMATED 3 WEEK LEAD TIME.
SEATS SHOWN WILL SHIP WITHIN 1 TO 2 DAYS UNLESS SPECIFIED OR NOTIFIED.
Solar-reflective leather in the seating area and automotive-grade vinyl on the sides; patented process reduces surface temperature by as much as 25°F for a cooler seat, higher durability and longer life over conventional leather or vinyl. (No insert for Backrest)
CUSTOM STITCH IS ON THE TOP OF SEATS (NOT SIDES) ONLY FOR VICTORY HIGHBALL, VEGAS, KINGPIN INCLUDE RED, BLUE, SILVER, GREEN, YELLOW, WHITE, ORANGE
Made in the USA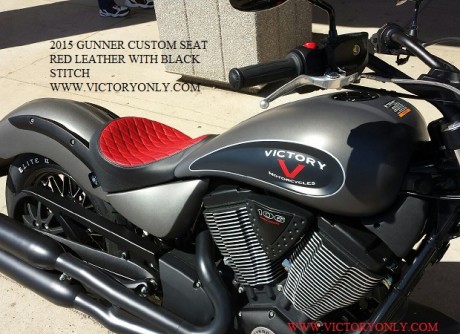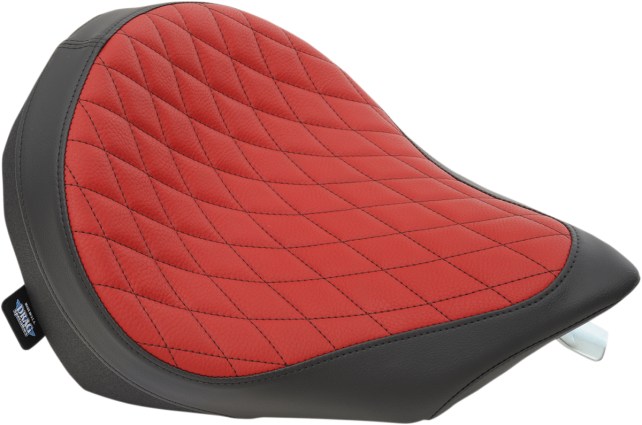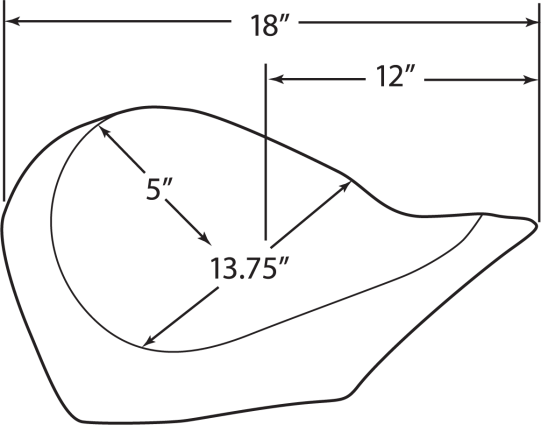 | | |
| --- | --- |
| Base Color | Black,Red |
| Cover Material | Solar-Reflective Leather,Vinyl |
| Decoration | Diamond |
| Driver Seat Length Imperial | 16″ |
| Driver Seat Width Imperial | 13-1/2″ |
| Fill Material | Polyurethane Foam |
| Model | Low-Profile |
| Mounting Position | Front |
| Overall Seat Length Imperial | 18″ |
| Product Name | Seat |
| Riding Style | Street |
| Type | Solo Seat |
| Units | Each |
Solo Seat Low Profile Red Diamond Vegas Kingpin Highball Gunner