Description
Wizard LED Super Kit
Magical Wizard Light SUPER Kit
Includes:
8 Color Changing Magical Wizard Pods
Color Command™ Remote Control Module
2 Individual Key Fobs
LeverLockz™ Installation Kit with Instructions
Wizard Lights Total Control In the Palm of Your Hand.
Another Option is Wizard Light Starter Kit: Love blue lights but they are not legal in your state? No problem, Just hit the button on the Color Command T Module and change to another color for your ride. After you stop and park your bike in front of your favorite hang out, change the lights back to blue with the Color Command T Module.
You no longer have to be stuck with just one color of LED accent lights on your motorcycle. Now you can choose any one of 7 cool colors: Red, Green, Blue, Purple, White, Teal, or Amber. Can't decide what color you want? Have them all with the new auto rotate feature!
Each Wizard Pod contains 6 LEDs, Each LED is made up of 3 die – Red, Blue, and Green, for a total of 18 LEDs.
No other LED Pod (color changing or not) on the market today has this many individual LEDS!
The best part about the Wizard Lights T is that all functions are controlled with our new remote control Color Command module.
The Color CommandT module allows Total Control In the Palm of Your HandT If that isn't enough, you can also select one of four different flash speeds or select the auto rotate function with the Color CommandT remote control.
In all, you have a total of 37 functions and can control these functions from up to 100 feet away with the Color CommandT unit.
Victory Hammer, Victory V92, Victory Jackpot, Victory Vegas, Victory 8ball, Victory 8 Ball, Victory 8-Ball, Victory Kingpin, Victory boardwalk, Victory gunner, Victory Hardball, Victory Magnum, Victory Cross Country, Victory Cross Roads, Victory Judge, All Victory Motorcycles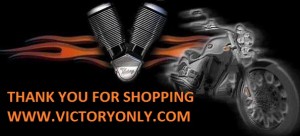 Victory Only Motorcycle carries the largest stock of performance mods, upgrades, custom equipment gear, apparel, OEM replacement and aftermarket parts and accessories for Victory Motorcycles with international worldwide shipping to Canada, UK, CZ, GB, Australia and anywhere a Vicory Motorcycle rider wants to do it yourself customizing of a show quality bike. If you are looking for Chrome or Black Contrast Cut billet aluminum accessories. Just shop Victory Only and Owens Cycle Works website for retail purchases or dealer wholesale orders for Victory's parts.
Wizard LED Super Kit