Description
Steel Belt Guard Bolt Kit Chrome, Black & colors
◦Kit comes with 3 button head bolts & washers choose your Colors
◦Replaces factory Oem Bolts with high quality chrome steel bolts. Belt guard Bolts right in front of the swing arm and covers the pulley
We are dedicated to providing the highest quality chrome fastener solutions for your Victory.
Kit consits of the correct length and quantity triple chrome plated bolts. Simply remove 1 bolt at a time and replace with a chrome one.
Steel Bolts Hand Sprayed with Ceramic Coat then baked on for a Strong Finish. The Chrome is polished the chromed for a beautiful finish.
Ceramic coating provides a hard heat resistant finish. The color will be the same on all your bolts.
Steel Bolts that exceed factory OEM Specs. Yes you can torque to factory specs.
No more huge service bills because you broke an aluminum bolt off!
Fits Victory Motorcycles :
2004 – Up Vegas
2004 – 2012 Kingpin
2015 – Up Gunner
2013 – Up Judge
2013 – 2015 Boardwalk
2006 – Up Jackpot
2005 – UP Hammer
2010 -UP Highball
2010 – Up Cross Country / Tour
2010 – 2014 Cross Roads
2012 – 2013 Hardball
2015 – Up Magnum, X1
2008 – Up Vision / Tour
Replaces the 3 bolts on the belt cover on engine
Kit comes with 3 polished chrome bolts & washers
Fits: Victory Vegas, Victory 8ball, Victory 8 Ball, Victory 8-Ball, Victory Jackpot, Victory Hammer, Victory Kingpin, Victory Judge, Victory High Ball, Victory Boardwalk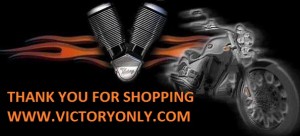 Victory Only Motorcycle carries the largest stock of performance mods, upgrades, custom equipment gear, apparel, OEM replacement and aftermarket parts and accessories for Victory Motorcycles with international worldwide shipping to Canada, UK, CZ, GB, Australia and anywhere a Vicory Motorcycle rider wants to do it yourself customizing of a show quality bike. If you are looking for Chrome or Black Contrast Cut billet aluminum accessories. Just shop Victory Only and Owens Cycle Works website for retail purchases or dealer wholesale orders for Victory's parts.
Steel Belt Guard Bolt Kit Chrome, Black & colors