Description
Engine Cover Skull and Bones
These new Chromed Billet Engine covers will give your Victory a custom look.
The Inlay version has a beautifully laser cut steel powder coated and chromed inlayed artwork. The MIA version is shown, others available.
BOTH SIDES ARE INCLUDED THE 180MM AND 110MM Fits all Victory Motorcycles
Chrome Base, White Backer, Chrome Artwork Shown Below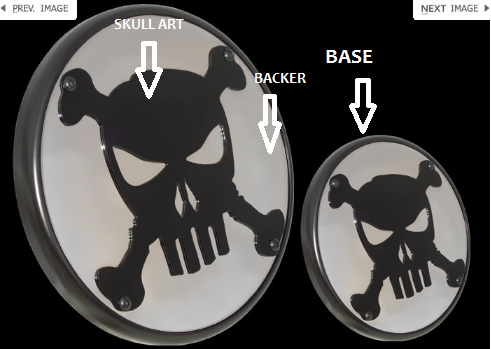 Chrome Base, Black Backer, Chrome Artwork Shown Below
Black Base, Chrome Backer, Black Artwork Shown Below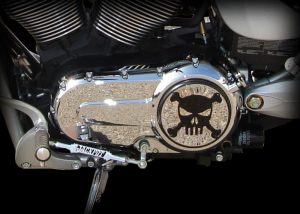 Red Base, White Backer, Chrome Artwork Shown Below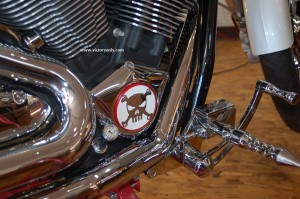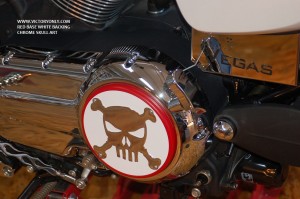 ***MADE IN THE USA*** Installation Instructions: 1) Remove stock cover by removing 2 flat head screws. (keep screws for install of new back plate. 2) Install new back plate with 2 flat head screws from stock cover. ( Use Blue Loctite on screws)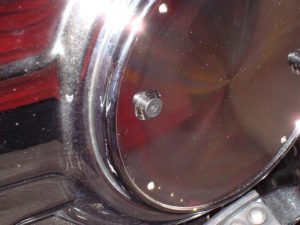 3) Install Black Backing Plate and line up 4 holes to holes in back plate. ( a dab of grease will hold it in place)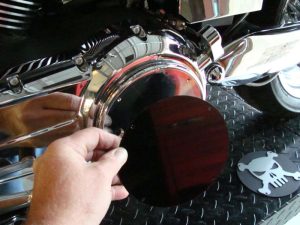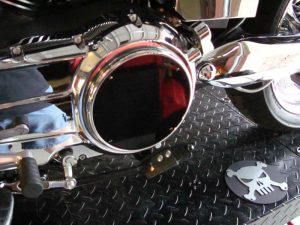 4) Install Design plate this is the Skull and Cross Bones design. ( install 1 of the 4MM screws to hold it inplace)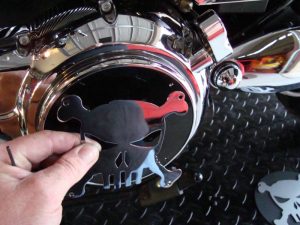 5) Using a little Blue Loctite install the other 3 screws and tighten, remove first screw and apply Loctite re install and tighten.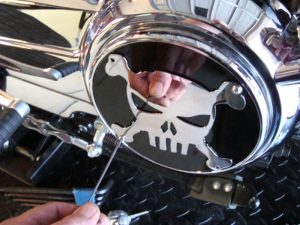 6) Clean it up with a soft cloth and some good chrome wax and it should look like this: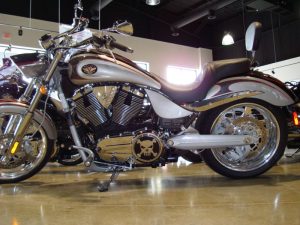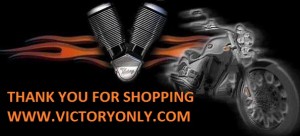 Victory Only Motorcycles carries the largest stock of custom and aftermarket parts & accessories for
Victory Motorcycle Jackpot, Victory Motorcycle 8 Ball, Victory Motorcycle Judge, Victory Motorcycle Vision,
Victory Motorcycle Cross Country Xc, Victory Motorcycle Cross Roads XR, Victory Motorcycle Boardwalk, Victory Motorcycle Highball,
Victory Motorcycle Gunner,Victory Motorcycle Kingpin, Victory Hammer, Ness Models,
Victory Motorcycle Vegas, Victory Motorcycle Vegas Jackpot, Victory Motorcycle V92C Classic Cruiser,
Victory Motorcycle V92Sc Sport Cruiser, Victory Motorcycle V92TC Touring Cruiser, Victory Hardball,
Victory Motorcycle Kingpin Low, Victory Motorcycle Gunner, Victory Motorcycle Custom Bagger Bikes,Victory Hammer 8ball,
Victory Motorcycle Custom Build Arlen & Corey Ness bikes. motorcycles with worldwide shipping to Canada, Uk,
Australia and anywhere a Victory Motorcycle rider wants to ride a show quality bike.
Engine Cover Skull and Bones