Description
Forged Highway Bar 3 1/2″ LED FOG KIT VICTORY Cross Country
For true fog light performance now Victory Only makes a satin black mounting bracket for the Victory forged bars, allowing the placement of their fog lights low where they need to be.
These SAE compliant fog lights are great to increase visibility of swales during fog or at low light times.
These 3 ½'' lights have a custom designed visor as part of the bezel,each contains two high output, high intensity LEDs for the best in illumination.
For Victory Cross Roads, Cross Country, Hardball and Magnum forged bars 2010 and newer.
3 1/2″ LED FOG LIGHT KIT, For Forged Bars, For Victory Cross Country, Tour, & Magnum 2010-Newer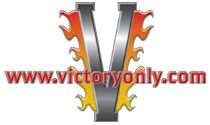 Forged Highway Bar 3 1/2″ LED FOG KIT VICTORY Cross Country