Description
LR10 Turn Signal Load Equalizer with Posi-Taps Victory
Specifically designed to work on the new 2012, 2013, 2014, 2015, 2016, 2017, 2018 bikes, but it can also be used on the 2005 through 2011 models.
It's a much larger unit, and able to handle the heat better for longer life.
The new LR10 can be used on the 2005 TO 2017 bikes if just one set of custom LED turn signals are installed, or if both front and rear sets are installed…only one LR10 is needed,
Required for use on 2005 to 2015 Victories with self-canceling turn signals to maintain stock flash rate once updated to led turn signals.
One LR10 used on 2011 & Victory bikes when either one or both sets of LEDs installed
This is a must have part when upgrading from halogen Lights to Led Lights or turn Signals on 2005 to 2015 Victory Motorcycles
An absolute must when installing custom turn signals on you VICTORY. This was designed to return amperage draw back to the stock specification to avoid any electrical headaches.
The Load equalizer comes with instructions but is pretty simple to install. Kit includes 2 positive wires and 1 negative. The 2 positive is connected into the positive of a left and right signal either front or back. The negative will go into either front or back negative. It includes Posi Tab connectors to screw into the wire easily. See Install instructions Below
Fits: Victory 2005 to 2015 Victory Motorcycles. Victory Vegas, Victory 8Ball, Victory 8 Ball, Victory 8-Ball, Victory Jackpot, Victory Hammer, Victory Kingpin, Victory Cross Country, Victory Vision, Victory V92C, Victory Classic, Victory V92SC, Victory Sport Cruiser, Victory V92TC, Victory Touring Cruiser, Victory Judge, Victory High Ball, Victory Hard Ball, Victory Cross Roads, Victory Boardwalk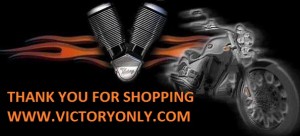 Victory Only Motorcycle carries the largest stock of performance mods, upgrades, custom equipment gear & apparel, OEM replacement and aftermarket parts & accessories for Victory Motorcycles with international worldwide shipping to Canada, Uk, CZ, GB, Australia and anywhere a Vicory Motorcycle rider wants to do it yourself customizing of a show quality bike.
LR10 Turn Signal Load Equalizer with Posi-Taps Victory