Description
Gerbing Gyde 7V Men's Heated Zenith Fleece Jacket
Our Zenith Fleece Heated Jackets are the perfect combination of warmth, comfort and style. The soft feel and modern fit of these great heated jackets make them an absolute must-have this winter season.
Layer up for the cold with the Zenith Fleece Jacket. Exceptional warmth is delivered via three patented Microwire™ heating zones and a lofted anti-pill composition. Stay warm while others are feeling the cold bite.
Gerbing Gyde 7V Battery Heated Jackets & Vests Include:
7V 3400 mAH Rechargeable Lithium-ion Battery Pack (25.16Wh)
Wall Charger
Detailed Instructions
Gerbing Lifetime Warranty
Gerbing Gyde Zenith Fleece Heated Gear Features:
Three Microwire™ heating zones: Chest (2) & back
Lofted anti-pill fleece composition
Battery runs for 8hrs on low power, 6hrs on medium, 4hrs on high and 2hrs on extreme
135° F Maximum heat
Active heat retention technology
Water and Wind Resistant
Comfortable & Stylish Fit
Battery has 4 heat-settings as indicated by lights and Heat Times:
100% (4 red/blue lights) – 2 Hours
75% (3 red/blue lights) – 3 Hours
50% (2 red/blue lights) – 5 Hours
25% (1 red/blue lights) – 8 Hours
Charging Battery:
We recommend charging overnight for first charge.
Charge 100% before use (a full charge takes about 3 hours).
A red light will appear on wall charger when charging.
The red light will change to green when charged.
Maintain at least 25% power when battery is not in use. This practice will prolong the life of any 7V battery.
How it Works:
Step 1: Power on by pressing and holding power button.
Step 2: To change temperature, press and hold power button until LED light reflects desired setting. *Power level setting can only be indicated when connected to garment.
Step 3: Check remaining battery life by disconnecting battery from product. Press and hold power button, LED indicator will show 1 to 4 lights.
LED lights to indicate remaining power will illuminate (4 lights is full power)
Turning On the Heat:
Step 1: Locate power pocket; it will be on the wearers left outer pocket.
Step 2: Open pocket and locate power plug.
Step 3: Turn on battery by holding power button until it lights up.
Step 4: Insert plug into battery port and push down to secure it in the plug holder.
Step 5: Push power button on battery to select the setting you would like.
Step 6: Place battery into pocket and close the pocket.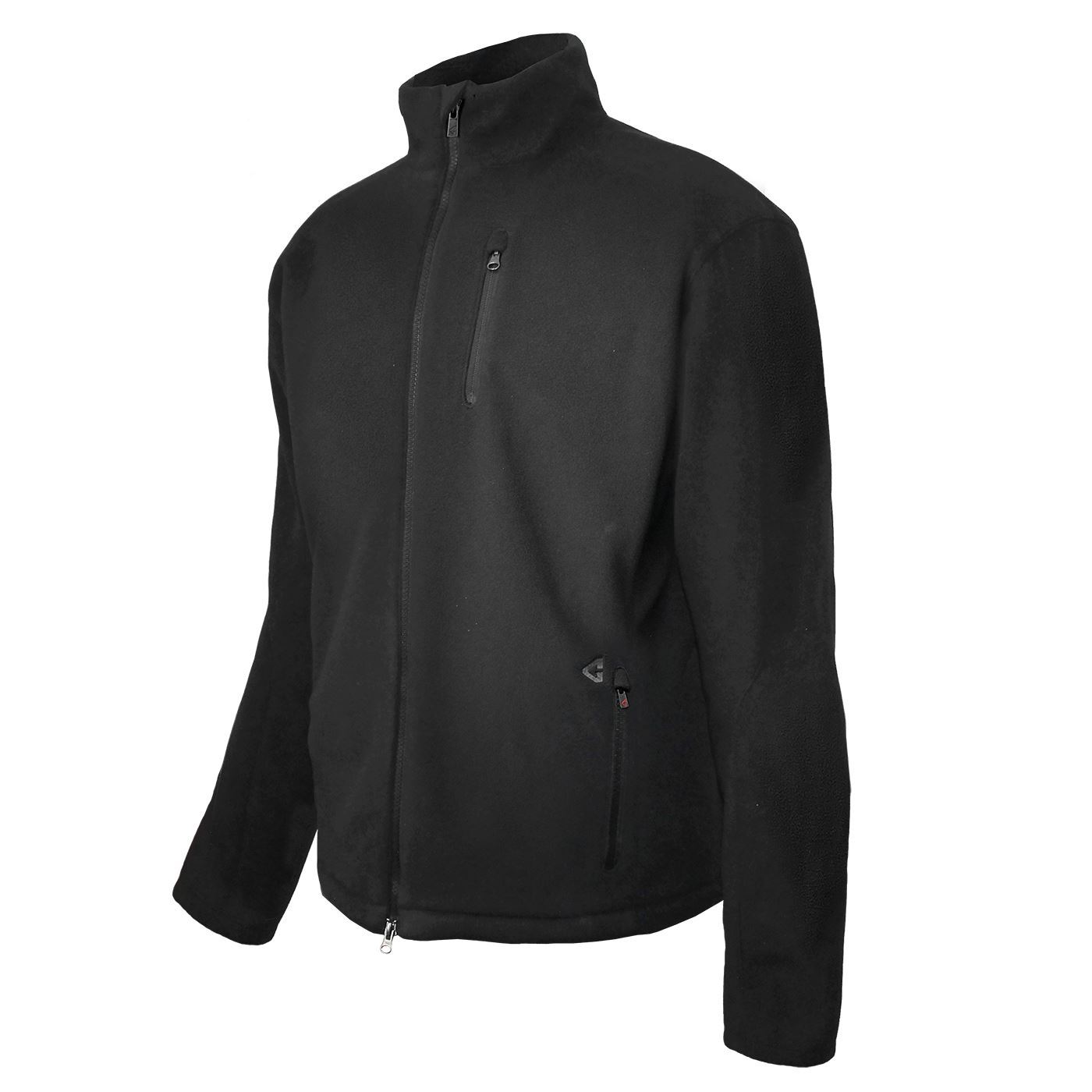 Gerbing Gyde 7V Men's Heated Zenith Fleece Jacket