Description
License Plate frame Chrome Turn Signals & Brake Light
Chrome License Plate frame with Turn Signals and Brake Light included
Chrome finishes
Mounting hardware included
45 super bright flush mount dual intensity red running/brake LEDs
Mounting holes center to center: 53/4″ x 213/16″
Available in flat
Flush mount run, brake and turn signal LEDs
Frame dimensions: 71/4″ L x 41/4″ W
License plate frame with six bright white license plate LEDs
20 super bright flush mount amber turn signal LEDs per side
Victory Motorcycle Chrome License Plate frame Kit with Brake Leds and Turn Signal leds built in. This is a really cool product and fits on the stock mounting brackets.
MODEL All-In-One
SPECIFIC APPLICATION No
STYLE Flat,w/ LED License Plate Light,w/ Turn Signal
TURN SIGNAL INCLUDED Yes
TYPE License Plate Frame
Chrome Led Lighted License Plate frame with leds Lighted plate.
Chrome led Lighted Plate Frame With Led Turn Signals and Brake Light for most exposure on You Victory Motorcycle
Picture Below of Victory Motorcycle Plate Kit Right Led Turn Signal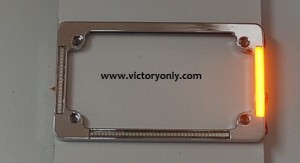 Picture Below of Victory Motorcycle Plate Kit brake Led Signal Light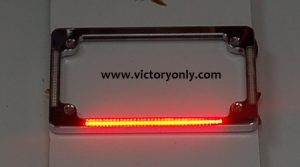 Picture Below of Victory Motorcycle Plate Kit Left Led Turn Signal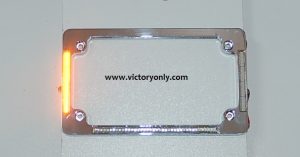 This Custom All in One Victory Motorcycle License Plate frame with Led Turn Signals and Brake Light is the safest and brightest system on the market today. Includes Led Lighted Plate Frame. FRAME License Plate frame TRUFLEX CHROME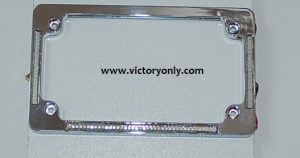 will fit all of the following:
Victory Jackpot, Victory 8 Ball, Victory Judge, Victory Vision, Victory Cross Country Xc,
Victory Cross Roads XR, Victory Boardwalk, Victory Highball, Victory Gunner, Victory Kingpin, Victory Hammer, Ness Models,
Victory Vegas Jackpot,Victory V92C Classic Cruiser, Victory V92Sc Sport Cruiser, Victory V92TC Touring Cruiser, Victory Hardball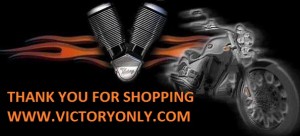 Victory Only Motorcycle carries the largest stock of performance mods, upgrades, custom equipment gear & apparel, OEM replacement and aftermarket parts & accessories for Victory Motorcycles with international worldwide shipping to Canada, Uk, CZ, GB, Australia and anywhere a Vicory Motorcycle rider wants to do it yourself customizing of a show quality bike.