Description
Riser Drag bars / V Bars 2 inch Chrome / Black


Riser Drag bars / V Bars 2 inch Chrome / Black, Victory Motorcycle Ram Bars and  Victory Motorcycle "V" Bars Choose From Chrome or Black Then Choose Stock Triple Trees or 45 Degree Rake Kit as noted Below.
Install With Victory Stock Trees
Riser Drag bars 2 inch Chrome riser for 1.5″ Fly Bars, Ram Bars and Victory "V" Bars.
These simple and clean risers are easy to install.
These risers are popular for stock Hammer V-bar owners in particular, who may want just a bit more height and pull back.
Simple trig based upon factory Victory 32.9 degree rake angle yields that our 2.0 inch risers will produce:
1.7″ rise after Riser for Drag bars 2 inch Chrome OR Black
1.1″ inch pullback after Riser for Drag bars 2 inch
Install Overview: You will be required to remove the stock studs from your bars to use the supplied 12mm bolts. Some older bars require 10mm bolts select size when ordering
These risers come with longer hardware to allow you to use them with your stock trees.
To install, you will be required to remove the stock studs from your bars to use the supplied 12MM bolts.
Note: Some older bars require 10mm bolts Before ordering you need to check and see if your bars require 10mm bolts by measuring at the bottom under triple trees.
To remove the stock studs you will need to double nut the studs and apply some heat to the stock stud to break the bond of the factory locking compound used on the studs, the studs will unscrew when the locking compound get's a little hot.
Make sure to keep the heat on the stud not the bars.
CNC-machined billet aluminum riser extensions available in chrome or gloss black finish
Sold in pairs
Made in the U.S.A.
Riser for Drag bars / V Bars 2 inch Chrome / Black  Fits: All Victory Motorcycles Vegas, Victory 8ball, Victory 8 Ball, Victory 8-Ball, Victory Jackpot, Victory Hammer, Victory Kingpin, Victory Cross Country, Victory Vision, Victory V92C, Classic, Victory V92SC, Victory Sport Cruiser, Victory V92TC, Victory Touring Cruiser, Victory Judge, Victory High Ball, Victory Hard Ball, Victory Cross Roads, Victory Boardwalk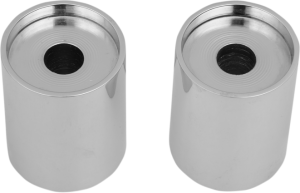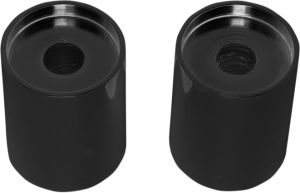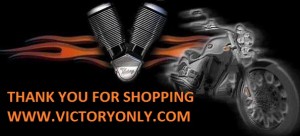 Riser Dragbars Flybars Victory Motorcycle
Victory Only Motorcycles carries the largest stock of custom and aftermarket parts & accessories for
Victory Motorcycle Jackpot, Victory Motorcycle 8 Ball, Victory Motorcycle Judge, Victory Motorcycle Vision,
Victory Motorcycle Cross Country Xc, Victory Motorcycle Cross Roads XR, Victory Motorcycle Boardwalk, Victory Motorcycle Highball, Victory Motorcycle Gunner,Victory Motorcycle Kingpin, Victory Hammer, Ness Models,
Victory Motorcycle Vegas, Victory Motorcycle Vegas Jackpot, Victory Motorcycle V92C Classic Cruiser,
Victory Motorcycle V92Sc Sport Cruiser, Victory Motorcycle V92TC Touring Cruiser, Victory Hardball,
Victory Motorcycle Kingpin Low, Victory Motorcycle Gunner, Victory Motorcycle Custom Bagger Bikes,Victory Hammer 8ball,
Victory Motorcycle Custom Build Arlen & Corey Ness bikes. motorcycles with worldwide shipping to Canada, Uk,
Australia and anywhere a Victory Motorcycle rider wants to ride a show quality bike.
Riser Drag bars / V Bars 2 inch Chrome / Black