Description
Tube Stash Stuff License Plate
Perfect for storing Insurance card, registration, couple extra dollars in case you forget a wallet.
Simply Roll your information up and store it on your tag mount.
Simple Cool Old School Look and design
Mount on a Frame using clamps (clamps not included just an idea)
Roll up a flag on the Inside to show off your Club Colors. The Clear Tube will show off the Designs Inside
COLOR Black,Clear
MATERIAL Aluminum,Plastic
SIZE One Size Fits Most
SPECIFIC APPLICATION No
STYLE Plain,Universal
TYPE Stash Tube
Fit 5.75″ on-center bolt pattern / U.S.A. motorcycle license plates
Include black electroplated steel L-brackets and hardware
CNC machined end caps in black or polished aluminum
Impact-resistant plastic sleeve holds documents and more
Stash tube measures 4.75″ L x 1″ inside diameter
Construction: CNC lathe-turned alloy end caps; black electroplated steel hardware; rugged polycarbonate clear tube.
Fitment: Mounting hardware on US-spec license plates fits into the L-brackets on Stash tube to hold the assembly in place. Plastic tube houses documents and contraband to keep info and materiel safe.
Details: Fits license plate bolt pattern in all 50 US states. Does not fit Euro, Australia, or Asia spec license plates.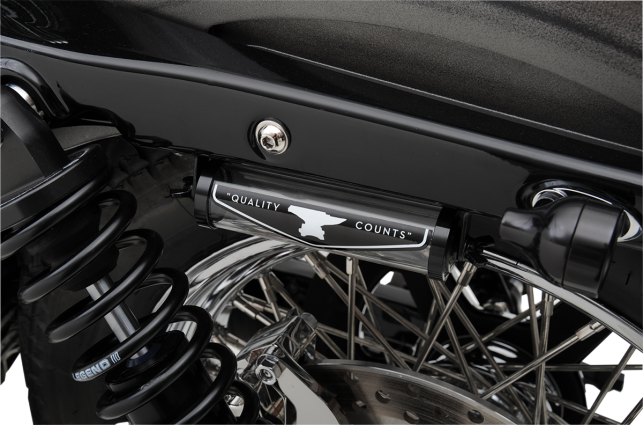 WHAT CUSTOMERS SAY
Great idea, never forget you registration again, Fit perfectly and look awesome. These guys are great with delivery and service. Five stars no doubt..
They shipped my order in a very timely fashion and I love this stash tube. I no longer have to carry my registration in and out of my backpack, roll bag, or jacket pocket. it stays with my bike for long rides or even quick trips to the store.
Dig these. I want one for all of my bikes. Bought a new Vic and was able to keep my temp registration on the bike, visible, clean and dry. Perfect for storing your registration ans insurance card. I even keep a few dollars for gas just in case.
Tube Stash Stuff License Plate