Description
Headlight Module Diamond Star with Heads Up Alert
Conspicuity is what it is all about! Frontal type accidents happen every day and are the most common and serious motorcycle accident. Even though these type accidents are not acceptable it is somewhat understandable because motorcycles have a smaller profile than automobiles, and now with "Daytime Running Lights" (DRL'S) becoming standard equipment on more cars, motorcycles are even less noticeable. The "Diamond Star Headlight Modulator" is a dynamic new product designed to make you more noticeable to approaching drivers by pulsing your headlight automatically during daytime conditions. The Diamond Star is loaded with features and meets or exceeds Federal Standard CFR 49. Headlight Modulators are now legal in all 50 states because of the increased safety benefits they provide. For ultimate conspicuity, you can't beat the Diamond Star Headlight Modulator!
New Improved Features:
Toggle Modulation ON and OFF – The modulation of the headlight can be toggled on and off by the user at any time. When the bike is started the default is modulation ON. To turn the modulation on or off simply switch your bikes high low beam switch to the opposite position, and then back to the original position within one second (this can be done with the switch in either the high or low beam position).
Auto Night Shut-Off – The Diamond Star Headlight Module is designed to automatically turn on and off at specific light levels in order to comply with the DOT's regulation of no night time modulation.
To Switch From Max to Min Mode – The Diamond Star Headlight Module is equipped with two levels of modulation to meet your visibility requirements. (Both are fully DOT compliant). The default level is "Max" when the bike is turned on, but can easily be toggled to "Min" or back to "Max" by simply pressing the horn button twice within one second.
Heads Up Alert – The Diamond Star Headlight Module can be connected to your bikes horn wire in order to add a visual alert to your horn's audible alert. Pressing the horn will cause your headlight to modulate for 3 seconds, then return to steady on; or toggle between min and max mode for 3 seconds if it is already modulating.
Please Note: as per D.O.T. regulations, the Heads Up Alert feature DOES NOT work at night!
Emergency Headlight Feature- The Diamond Star Headlight Module is constantly monitoring the bulb that you have selected (high beam or low beam). In the event the bulb(s) should fail; the alternate bulb(s) will instantly be turned on. This switching will only be done once; when the bike is turned off and then back on you will not have use of the bulb that failed until it is repaired or replaced. While the Heads-Up Alert feature will continue to function in the event of a headlight failure, the headlight will not modulate otherwise. If you find you cannot get your headlight to modulate, check the bulb.
No Excessive Heat Build-Up – Handles high power demand sealed beam and halogen headlights totaling up to 130 watts! Operates efficiently with only slight increase above ambient temperature at continuous max headlight power rating.
Surge Protected – Internal protection against transient voltage spikes during engine starts or charging system operation. Also drops out if voltage is too low, avoiding problems associated with low voltage.
Compact Size – 2 1/4″ long X 1 5/8″ wide X 5/8″ high
Solid State Reliability
12 VDC
Weather Resistant Heat Sink Case
1-Year Warranty
Headlight Module Diamond Star with Heads Up Alert Fits: All Victory Motorcycles. Vegas, Victory 8ball, Victory 8 Ball, Victory 8-Ball, Victory Jackpot, Victory Hammer, Victory Kingpin, Victory Cross Country, Victory Vision, Victory V92C, Classic, Victory V92SC, Victory Sport Cruiser, Victory V92TC, Victory Touring Cruiser, Victory Judge, Victory High Ball, Victory Hard Ball, Victory Cross Roads, Victory Boardwalk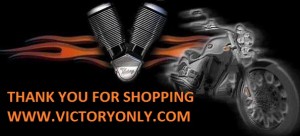 Victory Only Motorcycle carries the largest stock of performance mods, upgrades, custom equipment gear, apparel, OEM replacement and aftermarket parts and accessories for Victory Motorcycles with international worldwide shipping to Canada, UK, CZ, GB, Australia and anywhere a Vicory Motorcycle rider wants to do it yourself customizing of a show quality bike. If you are looking for Chrome or Black Contrast Cut billet aluminum accessories. Just shop Victory Only and Owens Cycle Works website for retail purchases or dealer wholesale orders for Victory's parts.