Description
Headlight Module with Heads Up Alert & Wiring Harness
A headlight module increases your daytime visibility by modulating your incandescent headlight (think flashing, but not quite..) from about 30% intensity to 100% intensity about 4 times per second. When approaching oncoming traffic, your modulating headlight will help you become 10x more visible compared to a standard motorcycle headlight, drastically reducing the risk of potentially fatal collisions involving automobiles.
Note : Does not work with Led Headlights ( a New version is coming for Leds in 2024)
Features
Toggle Modulation ON and OFF The modulation of the headlight can be toggled on and off by the user during daytime hours, as per DOT regulations this feature does is not available at night. When the bike is started the default is modulation ON. To turn the modulation on or off simply switch your bikes high low beam switch to the opposite position, and then back to the original position within one second (this can be done with the switch in either the high or low beam position).
Full Function You do not have to compromise between the high beam and low beam with a Signal Dynamics Headlight Module because this module will modulate your high OR low beam headlight(s)… you get to choose whenever you want! This feature is useful along with the ON/OFF feature: i.e. You're riding in heavy traffic and you don't want to annoy the bumper to bumper traffic ahead of you, so you switch your modulating low beam(s) off and turn on your solid non-modulating high beam(s).  
Auto Night Shut-Off The Headlight Module is designed to automatically turn on and off at specific light levels in order to comply with the DOT's regulation of no night time modulation.
Switch From Max to Min Mode This module is equipped with two levels of modulation to meet your visibility requirements. (Both are fully DOT compliant). The default level is "Max" when the bike is turned on, but can easily be toggled to "Min" or back to "Max" by simply pressing the horn button twice within one second.
Heads Up Alert Feature The Headlight Module harness has a green wire that can be connected to your horn wire in order to add a visual alert to your horn's audible alert. Pressing the horn will cause your headlight to modulate for 3 seconds (if the module is off) and then return to steady on; If your headlight is already modulating it will instead toggle between min and max mode for 3 seconds, thus giving you a faster flash rate for 3 seconds to give that approaching vehicle a 'head's up'.
Emergency Headlight Feature The Headlight Module is constantly monitoring the bulb that you have selected (high beam or low beam). In the event the bulb(s) should fail; the alternate bulb(s) will instantly be turned on. This switching will only be done once; when the bike is turned off and then back on. Additionally you will not have use of the bulb that failed until it is repaired or replaced. While the Heads-Up™ Alert feature will continue to function in the event of a headlight failure, the headlight will not modulate otherwise. If you find you cannot get your headlight to modulate, check the bulb.
No Excessive Heat Build-Up Handles high power demand sealed beam and halogen headlights totaling up to 130 watts! Operates efficiently with only slight increase above ambient temperature at continuous max headlight power rating.
Surge Protected Internal protection against transient voltage spikes during engine starts or charging system operation. Also drops out if voltage is too low, avoiding problems associated with low voltage.
Specifications
Part Number: 01015
Weight: Less than 1lb
System Requirement: 12VDC(-)
Attachment Method: Included Double Sided Adhesive Pad
Height (in): 5/8″
Length (in): 2 1/4″
Width (in): 1 5/8″
Wire Length: 5″-6″
Plug Connector: 6 pin (plastic) Black – polarized
Material: Anodized Aluminum Case with Heat and Water Resistant Potting
Wire: 16AWG – 20AWG
Package Contents: (1) Headlight Module, (1) Adhesive Mounting Pad, (1) Tap Connector 1(wiring adapter)
Color / Finish: Black Anodized
Hardware Included: No
Connectors Included: Yes (1)
Tools Required: Zip tie(s) for optic sensor placement if you do not wish to mount in fairing
Waterproof: No
Water Resistant: Yes
Heat and Vibration Resistant: Yes
All Victory Motorcycles. Vegas, Victory 8ball, Victory 8 Ball, Victory 8-Ball, Victory Jackpot, Victory Hammer, Victory Kingpin, Victory Cross Country, Victory Vision, Victory V92C, Classic, Victory V92SC, Victory Sport Cruiser, Victory V92TC, Victory Touring Cruiser, Victory Judge, Victory High Ball, Victory Hard Ball, Victory Cross Roads, Victory Boardwalk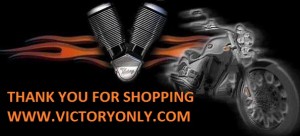 Victory Only Motorcycle carries the largest stock of performance mods, upgrades, custom equipment gear, apparel, OEM replacement and aftermarket parts and accessories for Victory Motorcycles with international worldwide shipping to Canada, UK, CZ, GB, Australia and anywhere a Vicory Motorcycle rider wants to do it yourself customizing of a show quality bike. If you are looking for Chrome or Black Contrast Cut billet aluminum accessories. Just shop Victory Only and Owens Cycle Works website for retail purchases or dealer wholesale orders for Victory's parts.