Description
K&N Air Filter Victory Motorcycle 2000 – 2007
PL1500 replaces Polaris 7080858
K&N's replacement air filters for Victory Motorcycles are designed to increase horsepower and acceleration while providing excellent filtration. We make over 1,200 different replacement air filters for virtually every vehicle on the road. These filters are washable and reusable and are custom designed to fit into your existing factory air box. Their drop-in design means adding performance is simple. With most vehicles you simply remove the disposable air filter and replace it with a K&N. See applicable instruction sheet for details. Our stock replacement air filters for street vehicles are covered by our famous K&N Million-Mile Limited Warranty™ and will be THE LAST AIR FILTER YOUR VEHICLE WILL EVER NEED
Designed to increase horsepower and torque
Pleated design provides increased air-flow and high filtration
Original K&N High-Flow Technology
Application specific sealing bead ensures an air-tight fit
Epoxy-coated aluminum backfire screen protects filter element
Made in the U.S.A. for over 40 years
Designed to boost horsepower and rate of acceleration
Can be cleaned and used again
High air flow with exceptional filtration
Lasts up to 50,000 miles before cleaning is required depending on driving conditions
Works with original equipment manufacturer vehicle electronics
Emissions legal in all 50 US states
Will NOT void vehicle warranty
Million Mile Limited Warranty®
Product Specifications
2005 – 2007 Victory Motorcycle Hammer
2004 – 2007 Victory Motorcycle Kingpin
2000 – 2003 Victory Motorcycle V92C Classsic Cruiser & Deluxe Cruiser
2003 – 2007 Victory Motorcycle Vegas
2002 – 2006 Victory Motorcycle Touring Cruiser v92TC
2000 – 2001 Victory Motorcycle Sport Cruiser V92Sc
2006 – 2007 Victory Motorcycle Jackpot 
Product SpecificationsAir Filter Shape: Panel
Filter Material: Cotton Gauze
Filter Re-Oiling Amount: 0.38 oz (11 ml)
Flanges: None
Height: 0.625 in (16 mm)
Outside Length: 7.875 in (200 mm)
Outside Width: 5.75 in (146 mm)
Package Contents: 1 Air Filter
Package Quantity: 1
Part Number: PL-1500
Product Box Height: 9.69 in (246 mm)
Product Box Length: 7.72 in (196 mm)
Product Box Width: 1.75 in (44 mm)
Product Style: Unique Air Filters
Weight: 0.66 lb (0.3 kg)Engine Protection, Filtration
Anyone can flow more air. The trick is to flow more air safely. In our opinion we hit the sweet spot – an optimal blend of high air flow, filtration efficiency, durability and dust capacity. We take filtration seriously. K&N Air Filter media has been tested both in-house and by independent labs using the ISO5011 test developed by the Society of Automotive Engineers. In addition we test many of our filters both in and out of the OE airbox ensuring proper fit and function. Our goal is to design filters with the maximum possible airflow achievable while providing guaranteed engine protection.The Importance of Oil
A K&N Air Filter is made of 4 to 6 layers of cotton gauze sandwiched between two epoxy-coated aluminum wire screens. The cotton is treated with a specially formulated grade of oil causing tackiness throughout the cotton's microscopic strands. The nature of the cotton allows high volumes of airflow, and when combined with the tackiness of the oil creates a powerful filtering media that ensures engine protection. In contrast, most other media can not maintain the same balance of airflow and filtration throughout the filter's life without sacrificing one or the other. With a K&N Air Filter, there is no sacrifice. Never Replace Your Air Filter Again
Handmade in the USA and in the United Kingdom using only the finest materials, K&N OE Replacement Air Filters are washable and reusable. Regardless of what you've heard, it's almost impossible to wash your K&N Air Filter too much. Inside our testing laboratory, we have washed and re-oiled one K&N Air Filter more than 100 times and it still performs up to specification. Depending on your driving conditions, we recommend cleaning your air filter every 50,000 miles. To clean and re-oil, purchase our filter Recharger® service kit and follow the easy instructions.
K&N Air Filter Victory Motorcycle increases Fuel Economy
Fuel economy testing and mileage claims are a tricky business. Just ask the EPA, whose website states, "EPA's fuel economy estimates are designed to allow consumers to comparison shop. Your fuel economy will almost certainly vary from EPA's fuel economy rating. This is based on a number of factors, such as weather, road conditions, your driving and maintenance habits, and your use of air conditioning." A lot of exaggerated claims are made in the marketplace by products claiming to improve gas mileage. K&N makes no general fuel economy claims, however we encourage you to try our air filter for yourself. Keeping air filter restriction as low as possible can be an important tool, among others, for maintaining high mileage.K&N Million Mile Limited Warranty® and Consumer Protection Pledge
K&N warrants its street vehicle OE Replacement Air Filters for one million miles. When used properly and found to be defective, return your filter and the receipt from purchase and K&N will replace it free of charge. K&N's Consumer Protection Plan goes one step further than its Million Mile Warranty. The performance aftermarket has, at times, been plagued by car manufacturers and automotive dealers that may attempt to discourage you from customizing your vehicle. They prefer you buy OE parts and not modify your car or truck and have even been known to void their own manufacturer's warranty due to vehicle modification. That sounds un-American to us, which is why K&N and the Magnuson-Moss Warranty Act (more information here) protect consumers from such denied warranty claims. When you buy an OE replacement K&N High-Flow Air Filter or High-Flow Air Intake System you can be confident your vehicle's warranty will remain in effect. If you experience a difficult dealership, K&N will resolve the issue so you won't have to.Installation Fits: Victory Motorcycle Vegas, Victory Motorcycle 8ball, Victory Motorcycle 8 Ball, Victory Motorcycle 8-Ball,  Victory Motorcycle Hammer, Victory Motorcycle Kingpin, Victory Motorcycle V92C Classic Cruiser,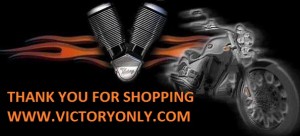 Victory Only Motorcycle carries the largest stock of performance mods, upgrades, custom equipment gear, apparel, OEM replacement and aftermarket parts and accessories for Victory Motorcycles with international worldwide shipping to Canada, UK, CZ, GB, Australia and anywhere a Vicory Motorcycle rider wants to do it yourself customizing of a show quality bike. If you are looking for Chrome or Black Contrast Cut billet aluminum accessories. Just shop Victory Only and Owens Cycle Works website for retail purchases or dealer wholesale orders for Victory's parts.
K&N Air Filter Victory Motorcycle 2000 – 2007